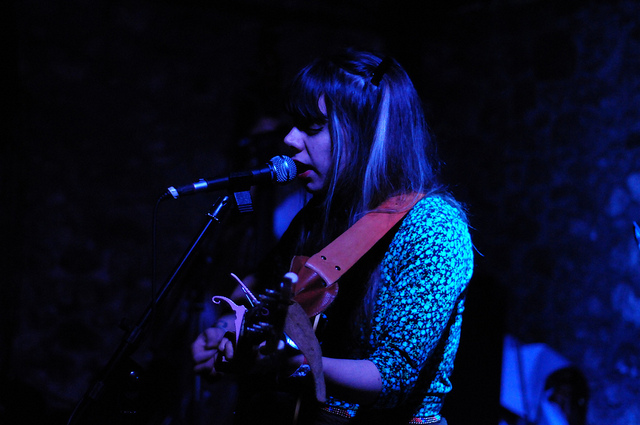 [photo courtesy of Sean Rowe]
Hurray For The Riff Raff is one of those rare bands that seem to be even better every new time you see them. We were amazed at their growth when we saw them twice last summer. Those two shows are on constant play in my listening rotation and I expect to add last Thursday's show at Knitting Factory to the mix. Fresh off what Alynda Lee called their "magical tour", which included an appearance at the Newport Folk Festival and a leg of the tour opening for the Alabama Shakes in large venues, the Knit show was a band at its peak having fun and playing a varied setlist. We've spoken in previous posts about the brilliant 2012 release Look Out Mama, definitely a sleeper for those disconnected with today's Americana music but a unanimous best-of for those who were paying attention. Hurray For The Riff are currently working on a new album which is expected in the Fall and the Knit show also saw the performance of what we believe were nine new songs that will eventually see release on that new record. Of those new songs, we'd heard a few at prior shows, including "Small Town Heroes". But this particular version of Small Town Heroes was so intense and awe inspiring that we have to stream it below.
Hurray For The Riff Raff will perform a free show in Lincoln Center at Hearst Plaza on Saturday August 10 at 1:30 pm. HFTRR will return for a full show in the Fall, venue and date to be announced by the band later today (along with full tour news).
I recorded this set with the Sennheiser cards on a stand at the front corner of the soundboard and mixed with an excellent feed provided by the Knit's FOH Rob. The sound quality is superb. Enjoy!
Stream "Small Town Heroes":

Download the Complete show [MP3] / [FLAC]
Note: All of the material on this site is offered with artist permission, free to fans, at our expense. The only thing we ask is that you download the material directly from this site, rather than re-posting the direct links or the files on other sites without our permission. Please respect our request.
Hurray For The Riff Raff
2013-08-01
Knitting Factory
Brooklyn NY
Digital Master Recording
Soundboard + Audience Matrix
Soundboard + Sennheiser 8040 Cardioids > Edirol R-44 (Oade Concert Mod) > 2 x 24bit 48kHz wav files > Soundforge (level adjustments, mixdown, EQ, set fades) > CDWave 1.95 (tracking) > TLH > flac (320 MP3 and tagging via Foobar)
Recorded and Produced by nyctaper
2013-08-04
Setlist:
[Total Time 1:15:22]
01 Old San Francisco Bay Blues
02 Blue Ridge Mountain
03 Instrumental
04 Look Out Mama
05 Slow Walk
06 I Know Its Wrong
07 The End of the Line
08 [banter – murder ballads]
09 The Body Electric
10 [banter – rock camp for girls]
11 Small Town Heroes
12 Crash on the Highway
13 Lake of Fire
14 No One Else But You
15 St. Roch Blues
16 Everybody's Talkin [Fred Neil]
17 [band introductions]
18 Little Black Star
19 [encore break]
20 Daniella
21 Ode to John and Yoko
22 Be My Baby [Ronettes]
If you Download this recording from nyctaper, we expect that you will PLEASE SUPPORT Hurray For The Riff Raff, visit their website, and purchase Look Out Mama from the Euclid Records website [HERE].