[Photos by acidjack]
The Raleigh, NC band The Love Language just released its third record, Ruby Red, but in some ways it feels like a debut. Frontman Stuart McLamb delivered his first album under this moniker in 2009; the band's Merge Records debut was a similarly insular affair. Both Ruby Red and the band's live show represent a vision blown wide open. Two years in the making, the record gave McLamb all the tools he needed to make the pop-driven, big-room-filling style of rock that he was born to make.
This show at Glasslands fulfilled the promise of the record in every way, with one big number after another making the case for a band on its way to the next level. McLamb's songs manage to toe that narrow line between earnestness and bombast without over delivering either. Ruby Red itself is a high-gloss production that features a cast of twenty musicians, grand flourishes and ear-pleasing micro-details. The live show, with a touring cast of five, felt comparatively stripped down, but it gave the songs the chance to prove themselves. The Love Language came across as a hungry, tightly-rehearsed unit, delivering tracks like the album opener "Calm Down" with a sense of purpose and poise. Taking full advantage of every second they had before the usual 11:30 p.m. switchover to dance music in this venue, the band played homage to a now-classic New York band with The Strokes' "The Modern Age". In that context, not to mention the choice of city, covering the last band tasked with "saving" rock felt right. I won't freight The Love Language or Ruby Red with that baggage, but for those still looking for new rock music that excites them, they're a find.
I recorded this set with our usual combination in the venue of Naiant X-R microphones and a soundboard feed from house engineer Josh Thiel. As the band's very loud guitar amps were not run through the board mix, this mix leans more heavily on the audience mics than normal, and is slightly lower in quality than the absolute best of our Glasslands recordings. That said, it's still more than worth checking out. Enjoy!
The Love Language is currently touring the Southeast, Midwest and West Coast. Click here for tour dates.
Stream "The Modern Age [The Strokes]"

Stream "Calm Down"

Download the complete show [MP3] | [FLAC]  
Note: All of the material on this site is offered with artist permission, free to fans, at our expense. The only thing we ask is that you download the material directly from this site, rather than re-posting the direct links or the files on other sites without our permission. Please respect our request.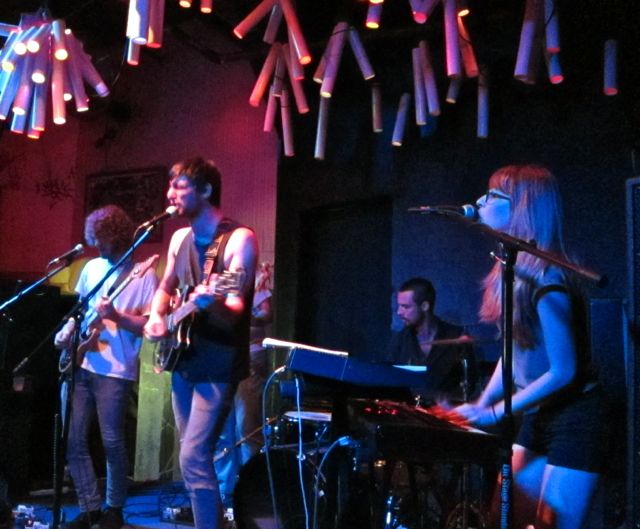 The Love Language
2013-08-01
Glasslands
Brooklyn, NY USA
Exclusive download hosted at nyctaper.com
Recorded and produced by acidjack
Naiant X-R (cardiod, DFC, ORTFish)+Soundboard (engineer: Josh Thiel)>Roland R-26>2x24bit/48kHz WAV>Adobe Audition CS 5.5 (align, mix down)>Izotope Ozone 5 (EQ, effects)>Audacity 2.03 (fades, tracking, amplify, balance, downsample, dither)>FLAC ( level 8 )
Tracks
01 Kids
02 Hi Life
03 On Our Heels
04 For Izzy
05 [banter1]
06 Providence
07 Heart To Tell
08 First Shot
09 Golden Age
10 Sparxxx
11 [banter2]
12 Manteo
13 Faithbreaker
14 Gray Court
15 Pilot Light
16 [banter3]
17 Calm Down
18 [encore break]
19 The Modern Age [The Strokes]
20 Lalita
21 This Room
If you enjoyed this recording, please support The Love Language, visit their website, and buy Ruby Red from Merge Records [HERE].