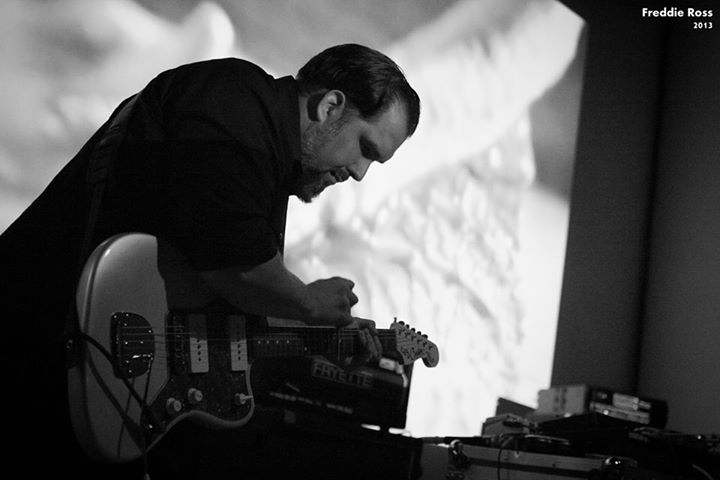 [Photo courtesy of Freddie Ross]
With High Aura'd, the multi-talented John Kolodij creates sonic landscapes with an understated energy. This set at Long View Center — pretty much the home base for much of the drone/ambient and less-noisy avant-garde music during Hopscotch Music Festival — began with the sound of crickets. Washes of guitar and other sound began to ebb and flow underneath. The repetition was hypnotic, slightly dangerous, as if we were about to enter a world we did not know. As the undertones of bass throbbed beneath, Kolodij faced the crowd through the blackness. The intensity of the guitars crested to a torrent of noise, while the crickets kept chirping. Something had entered that dark little world.
That was just the first of three songs, each long-form compositions. Two of these songs are brand-new — newer, even than the band's latest 7″, a split with Blood Bright Star. The middle song, "Methodist Bells," appears on High Aura'd's outstanding 2012 release Sanguine Futures, on the Asheville, North Carolina-based Bathetic Records. Look for at least one of these tracks on High Aura'd's next LP release on Bathetic, date TBD.
Friend of the site David Schwentker recorded this set with a direct soundboard feed. The sound quality is outstanding. Enjoy!
Stream and download the full set:

Download the complete show: [MP3] | [FLAC]
Note: All of the material on this site is offered with artist permission, free to fans, at our expense. The only thing we ask is that you download the material directly from this site, rather than re-posting the direct links or the files on other sites without our permission. Please respect our request.

[Photo by Ross Grady]
High Aura'd
2013-09-06
Hopscotch
Long View Center
Raleigh, NC USA
Recorded and produced by David Schwentker
soundboard feed>Olympus LS-10>24bit/48kHz WAV>Audacity (tracking, amplify, downsample)>Trader's Little Helper>FLAC ( level 8 )
Tracks
01 [new]
02 Methodist Bells
03 [new]
If you enjoyed this recording, PLEASE SUPPORT High Aura'd, like him on Facebook, buy Sanguine Futures from his bandcamp page and check out his new split 7″ here.