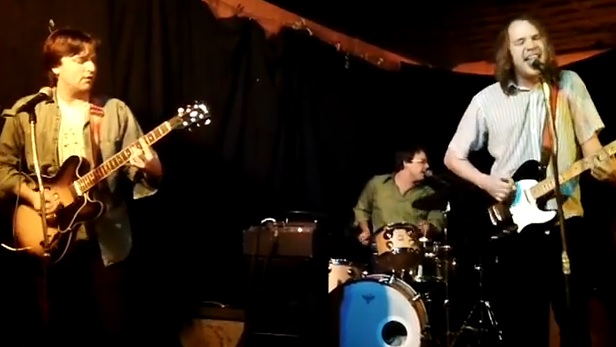 [still from this video]
The Sheiks are from Memphis, which makes them difficult to google. The "Memphis Sheiks" was one of the alternative names of the Memphis Jug Band, the influential early 20th century African-American roots/bluegrass band that performed for nearly thirty years. The Sheiks was also the name of a regionally successful St. Louis rock band in the 70s and 80s, that played often in Memphis, New Orleans and the Mississippi region. The contemporary band known as The Sheiks is a garage rock band, and a damned good one at that. We caught them at Cake Shop last week and their half-hour set was pretty much everything you want from this genre of music — loud, energetic, fun and a little messy. The Sheiks released Witches + Mystics last Summer and the band performed much of the album, along with a couple of new tracks and one neat cover. We are streaming "Until I Find Her", the opening track on the album, and a high-speed rave up that represents everything that's good about this genre and this band in particular.
I recorded this set with the Sennheiser cards mounted above the stage and mixed with DPA omni mounted in front of the stacks. The four mic mix is quite excellent, if a bit low in the vocals. Enjoy!
Stream "Until I Find Her":

Download the Complete Show [MP3] / [FLAC]
Note: All of the material on this site is offered with artist permission, free to fans, at our expense. The only thing we ask is that you download the material directly from this site, rather than re-posting the direct links or the files on other sites without our permission. Please respect our request.
Sheiks
2013-10-24
Cake Shop
New York NY
Digital Master Recording
Sennheiser MKH-8040s + DPA 4061s > Edirol R-44 (Oade Concert Mod) > 24bit 48kHz wav file > Soundforge (level adjustments, set fades, downsample) > CDWave 1.95 (tracking) > TLH > flac (320 MP3 and Tagging via Foobar)
Recorded and Produced
by nyctaper
Setlist:
[Total Time 35:25]
01 Makin Me Scream
02 She Said All Those Things
03 Tip Top
04 Teacher Teach Me
05 Only Daddy That'll Walk The Line [Waylon Jennings]
06 Queenie
07 She Dances With Fire
08 Keep Me In Mind
09 Picture Frame
10 Shitty Bo Diddley
11 Until I Find Her
12 Fever
If you download this recording from NYCTaper, we expect that you will PLEASE SUPPORT The Sheiks, visit their Facebook page, and purchase Witches + Mystics from their Bandcamp page [HERE].