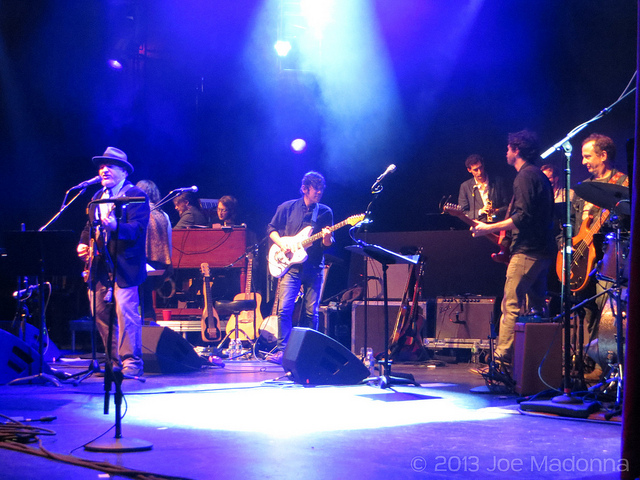 [photos by Joe Madonna Photography]
It took place on Thanksgiving night 1976, and it is perhaps the greatest rock and roll concert ever — certainly in the top ten. As a concert, The Band's The Last Waltz featured one of the premiere acts in the history of rock music retiring from touring in their prime and playing their greatest material accompanied by a who's-who of guests. This isn't just a few cameos from some big names — these are all-time performances from the greatest of the great. Dylan, Clapton, Neil, Van, Joni, and many others including everyone from Neil Diamond to Muddy Waters. The movie was directed by Scorcese is also perhaps the best concert film ever recorded. As a tribute to this remarkable and historical event in music history, The Complete Last Waltz is a project of tremendous ambition and respect for the history of the event. Last year the project was performed in San Francisco, but this year it moved East to the Capitol Theatre in Portchester on Thanksgiving Eve. The house band presented a bookend of sorts for this year for me personally, as the musicians were in large part the same group that had performed so admirably for Joe Russo's Almost Dead at Brooklyn Bowl in January. On this night, the band lead was taken by Sam Cohen and he did an extraordinary job both performing the songs to which he was assigned and passing the spotlight to the queue of outstanding guests. For this four-hour event it would be unwise to summarize every highlight, as there were plenty. I've chosen to stream four tracks from this event, which were personal favorites. Eric D. Johnson of the Fruit Bats (RIP) performed Van Morrison's "Caravan" with Van's 70s energy and his clothing outfit, including the bell bottom jeans. Eric Earley, from nyctaper-faves Blitzen Trapper, performed the entire Dylan suite impeccably with "I Don't Believe You" echoing the career highlight of the Dylan & The Band collaboration, the 1966 tour. Another site favorite Cass McCombs played three Band songs, of which we thought he completely nailed "Stage Fright". Finally, Kenny Siegel of whom we were not previously familiar summoned the ghost of Richard Manuel for a perfect rendition of "The Shape I'm In". But those four songs are just a sample of the amazing music made that night. If you were there (and listening) you know from what I speak, if you were not there please download and experience this show.
I recorded this set with the four-mic rig from the unfortunate official taping location in this venue, which is situated behind the soundboard and about 30 feet back from the balcony overhang. The other unfortunate circumstance at this show was the outrageous persistent yapping from much of the crowd — I mean people just would not stop talking. This despite a very nicely worded request on page two of the official Program asking people to refrain from talking or move the lobby. With those two very big caveats, please enjoy this recording!
Stream "The Shape I'm In" (Kenny Siegel):

Stream "Stage Fright" (Cass McCombs):

Stream "Caravan" (Eric D. Johnson):

Stream "I Don't Believe You" (Eric Earley):

Download the Complete Show [MP3] or [MP3] / [FLAC] or [FLAC]
Note: All of the material on this site is offered with artist permission, free to fans, at our expense. The only thing we ask is that you download the material directly from this site, rather than re-posting the direct links or the files on other sites without our permission. Please respect our request.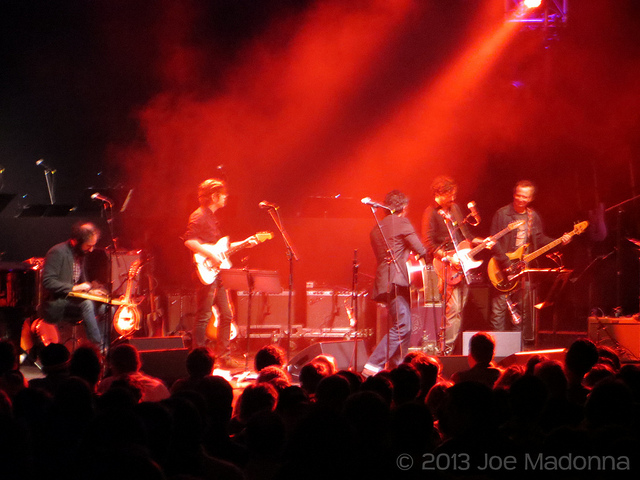 Complete Last Waltz
2013-11-27
Capitol Theatre
Portchester, NY
Digital Master
Four-Track Audience Recording
Recorded from Behind the Soundboard Booth
Sennheiser MKH-8040 Cardioids + Neumann KM-150s > Edirol R-44 (Oade Concert Mod) > 2x 24bit 48kHz wav file > Soundforge (level adjustments, mixdown, set fades) > CDWave 1.95 (tracking) > TLH > flac (320 MP3 and tagging via Foobar)
Recorded and Produced
by nyctaper
Setlist:
[Total Time 3:25:37]
01 Last Waltz Theme (Antibalas horns)
02 Up On Cripple Creek (Sam Cohen)
03 The Shape I'm In (Kenny Siegel)
04 Life Is A Carnival (Ryan Miller)
05 W.S. Walcott Medicine Show (Alec Ounsworth)
06 Georgia on My Mind (Alecia Chakour)
07 Ophelia (Scott Metzger)
08 Rag Mama Rag (Marc Black)
09 King Harvest (Jeremy Black and Jared Samuel)
10 Mystery Train (Matt Vasquez)
11 Who Do You Love (Matt Vasquez)
12 The Night They Drove Old Dixie Down (Cass McCombs)
13 Stage Fright (Cass McCombs)
14 It Makes No Difference (Cass McCombs)
15 Such a Night (Marco Benevento)
16 Down South in New Orleans (Andy Cabic)
17 This Wheel's On Fire (Andy Cabic)
18 [Nels rap]
19 Further On Up the Road (Nels Cline)
20 All Our Past Times (Nels Cline)
21 Helpless (Nicole Atkins)
22 Four Strong Winds (Nicole Atkins)
23 Coyote (Jocie Adams)
24 Furry Sings the Blues (Jocie Adams)
25 Dry Your Eyes (John Roderick)
26 Mannish Boy (Binky Griptite)
27 Caledonia (Binky Griptite)
28 Tura Lura Lural (Eric D. Johnson and Ryan Miller)
29 Caravan (Eric D. Johnson)
30 The Genetic Method (Ensemble)
31 Chest Fever (Kenny Siegel)
32 Evangeline (Parkington Sisters)
33 Acadian Driftwood (Parkington Sisters)
34 The Weight (Ensemble)
35 Baby Let Me Follow You Down (Eric Earley)
36 Hazel (Eric Earley)
37 I Don't Believe You (Eric Earley)
38 Forever Young (Eric Earley)
39 Baby Let Me Follow You Down Reprise (Eric Earley)
40 I Shall Be Released (Ensemble)
41 [encore break]
42 Don't Do It (Alecia Chakour and Scott Metzger)
If you download this recording from NYCTaper, we expect that you will PLEASE SUPPORT The Complete Last Waltz, visit the Facebook page, and support the many artists by following the links on the setlist to purchase their official material, for instance at the Royal Potato Family Records site where several artists reside [HERE].