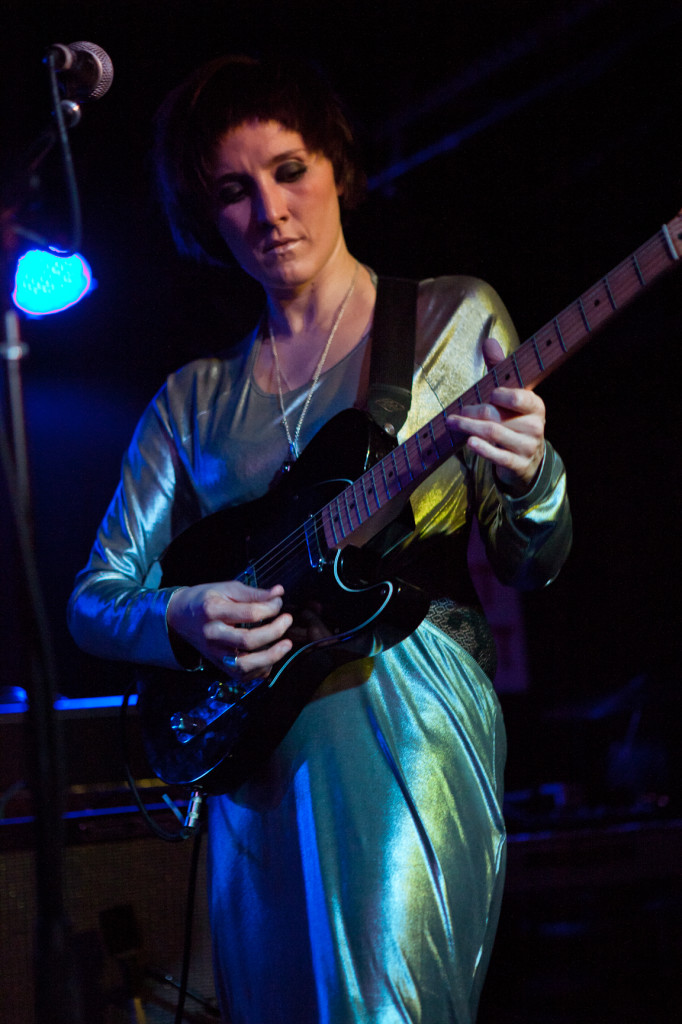 [Photos courtesy of Bleary Eyed Brooklyn]
Cate Le Bon's 2013 album Mug Museum (and her 2012 effort Cyrk) reminded me of many of the things that I loved about indie rock in the first place: simple, slightly hazy production; direct, memorable hooks; lyrics that meant something; and an unforced vibe that didn't sound it was trying too hard. The Achilles heel of that last quality has tended to be that it comes off live as boredom or slacking. With Cate Le Bon, I'm pleased to report that's not the case.
Together with Kevin Morby (that recording coming soon), Le Bon easily sold out the Mercury Lounge for this night. So much so, in fact, that there must have been some regret about not going with a bigger venue. When you can get a line down the street pre-doors for a Thursday night early show in January, you've probably got enough buzz to play to more than 200 people. That said, it's hard to replicate the feeling of seeing a great act in a club that's both that intimate and that good sounding, and whatever this crowd lacked in sheer numbers it more than made up for in enthusiasm.
Resplendent in a shimmering aquamarine dress with sheer side vents, Le Bon played us most of Mug Museum along with select tracks from Cyrk, the Cyrk II companion EP and her debut album, Me Oh My. Le Bon earns comparisons to Nico from time to time, and there are flashes of her singing style at play, but the Welsh singer's range is broader, and she seems a bit more approachable to spend an evening with. Live, Cate's songs gained a heady dose of immediacy compared to their recorded counterparts. While "Sisters" doubled as the energetic peak at this show and on the record, "Duke" felt transformed into a heavier, less distant number when played live in that small room. Le Bon's vocals were strong throughout the night, as was her band, who followed her whims on this night rather than the pre-planned setlist. These sixty-one minutes of pleasure were a sell-out well earned, and we expect Le Bon and the band will keep that streak up as the head west.
I recorded this set with a soundboard feed arranged by the band's traveling engineer (if you have his name, please pass it along so I can credit accordingly) and the head Mercury engineer Kevin Mazzarelli, along with Schoeps MK41 microphones. The sound quality is outstanding. Enjoy!
Le Bon will be on tour in the U.S. until the end of this month before hitting the UK and then Europe in February and early March. You can find the dates here.
Stream "Sisters"

Download the complete show [MP3] | [FLAC]
Note: All of the material on this site is offered with artist permission, free to fans, at our expense. The only thing we ask is that you download the material directly from this site, rather than re-posting the direct links or the files on other sites without our permission. Please respect our request.
Cate Le Bon
2014-01-16
Mercury Lounge
New York, NY USA
Exclusive download hosted at nyctaper.com
Recorded and produced by acidjack
Schoeps MK41 (PAS)>KCY>Z-PFA + Soundboard (engineers: Kevin Mazzarelli and [ ])>Roland R-26>2x24bit/48kHz WAV>Adobe Audition CS 5.5 (align, mix down)>Izotope Ozone 5 (effects, light EQ)>Audacity 2.0.3 (fades, tracking, amplify, balance, downsample, dither)>FLAC ( level 8 )
Tracks [Total Time: 61 minutes]
01 No God
02 Are You With Me Now?
03 I Can't Help You
04 Duke
05 Eyes So Bright
06 Mirror Me
07 Sisters
08 Falcon Eyed
09 What Is Worse
10 The Man I Wanted
11 Wild
12 [encore break]
13 Solitude
14 Fold the Cloth
If you enjoyed this recording, PLEASE SUPPORT Cate Le Bon, visit her website, and buy her records in her online store.