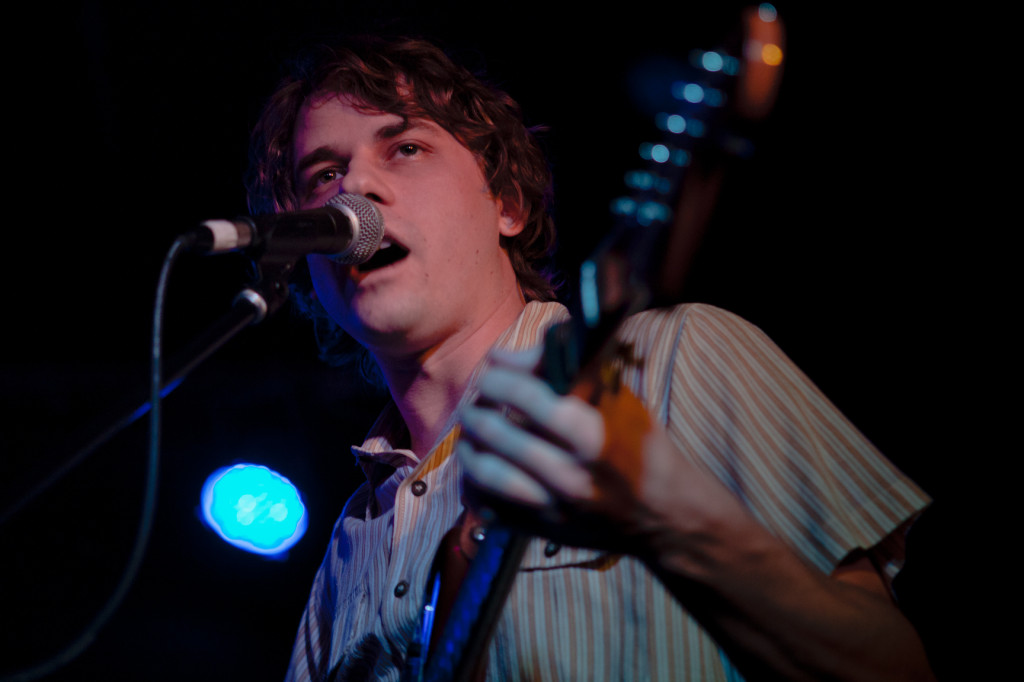 [Photos courtesy of Bleary Eyed Brooklyn]
Kevin Morby has been part of a couple of bands we love, The Babies and, in particular, Woods, so we are excited to be a part of his next musical phase. Kevin left New York for the sunnier climes of LA this past year, and his record Harlem River is a bit of a wistful sayonara to his time here. Compared to his other bands, the record moves at a more sedate pace than the Babies, and doesn't rely on the guitar freakouts that underline the best songs in the Woods catalog. The new material makes the case for Morby as a songwriter, without having to play loud and fast to make a point. The songs are reflective, mature and most importantly, memorable. Harlem River was easily one of the year's most underrated records.
Morby opened a packed Mercury Lounge on this Thursday night that was already full for his set. Cate Le Bon is featured on one of the Harlem River tracks, "Slow Train", so it makes sense that they'd share some of the same crowd. He hadn't been to New York in a while, he said, and his first offerings to get us in his good graces were two new songs, "The Jester, The Tramp and the Acrobat" and the faster "The Ballad of Arlo Jones", which is streaming below. From there, he hit the highlights of Harlem River's eight songs, including a rendition of the title track that offered some extended guitar work, and the album's logical single, "Miles, Miles, Miles". For a closer, Morby went back to the well of new material, delivering the excellent "All My Life", a song that shows that his new journey is only in its beginning stages. Expect to see the new songs on a forthcoming LP (timing TBD). You can follow Kevin on Twitter to keep up with his latest.
I recorded this set in the same manner as the Cate Le Bon recording, and the sound quality is similarly outstanding. Enjoy!
Thanks to Kevin Morby and Woodsist for their assistance.
Stream "The Ballad of Arlo Jones"

Stream "Harlem River"

Download the complete show [MP3] | [FLAC]
Note: All of the material on this site is offered with artist permission, free to fans, at our expense. The only thing we ask is that you download the material directly from this site, rather than re-posting the direct links or the files on other sites without our permission. Please respect our request.
Kevin Morby
2014-01-16
Mercury Lounge
New York, NY USA
Exclusive download hosted at nyctaper.com
Recorded and produced by acidjack
Schoeps MK41 (PAS)>KCY>Z-PFA + Soundboard (engineers: Kevin Mazzarelli and [ ])>Roland R-26>2x24bit/48kHz WAV>Adobe Audition CS 5.5 (align, mix down)>Izotope Ozone 5 (effects, light EQ)>Audacity 2.0.3 (fades, tracking, amplify, balance, downsample, dither)>FLAC ( level 8 )
Tracks [Total Time 38:15]
01 The Jester, the Tramp and the Acrobat
02 The Ballad of Arlo Jones
03 Sucker In the Void
04 Harlem River
05 Wild Side (Oh the Places You'll Go)
06 Slow Train
07 Miles, Miles, Miles
08 All of My Life
If you enjoyed this recording, PLEASE SUPPORT Kevin Morby, visit his website, and buy Harlem River from Woodsist.