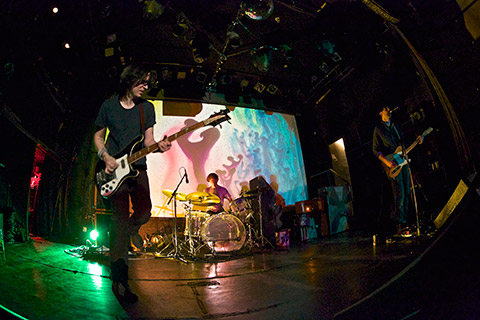 [photos by PSquared Photography]
Before there was Wooden Shjips or Black Angels or Black Mountain, there was Dead Meadow who in the late 90s began to play psych rock in Washington DC in an era when the local hard rock was dominated by Dischord bands. Despite the stylistic clash with the music of the day, Dead Meadow nevertheless succeeded on talent and ingenuity. Fifteen years, a few personnel changes, and a move to LA later, the band is still producing intense stoner rock and recently released their eighth studio album Warble Womb (Xemu Records). Dead Meadow hasn't played NYC in several years, but this week they were in town for two shows. We caught the Bowery Ballroom show on Tuesday night where Dead Meadow worked through a ninety minute set of exactly what we came to hear — a mix of old and new material, some spacey jamming, and outstanding sound quality. Given the weather, the crowd was not as packed as might have been expected in nicer climes, but the fans were certainly animated. There seemed to be a duel between the guy calling out for older material and the guy who yelled "play the record". I guess the newer fan won, because the band added "1000 Dreams" from Warble even though it wasn't on the setlist. We are streaming that track below because the band nailed the off-the-cuff selection. Dead Meadow's tour continues through February with multiple East Coast and Midwestern dates, see "tour" at their website.
I recorded this set in our usual manner in this venue, with the Sennheiser cards mounted in our perch to the left of the soundboard and mixed with a board feed. We were fortunate that Dead Meadow FOH Chris Preston was with the band and provided a customized feed with well balanced guitars and effects. The result is that the sound quality is superb. Enjoy!
Stream "1000 Dreams":

Stream "Til Kingdom Come":

Download the Complete Show [MP3] / [FLAC]
Note: All of the material on this site is offered with artist permission, free to fans, at our expense. The only thing we ask is that you download the material directly from this site, rather than re-posting the direct links or the files on other sites without our permission. Please respect our request.
Dead Meadow
2014-02-11
Bowery Ballroom
New York, NY
Digital Master Recording
Soundboard + Audience Matrix
Soundboard [Engineer Chris Preston] + Sennheiser MKH-8040s > Edirol R-44 (Oade Mod) > 2 x 24bit 48kHz wav files > Soundforge (level adjustments, mixdown, set fades) > CDWave 1.95 (tracking) > TLH > flac (320 MP3 and tagging via Foobar)
Recorded and Produced
by nyctaper
Setlist:
[Total Time 1:24:22]
01 [intro]
02 Greensky Greenlake
03 Everything's Going On
04 Such Hawks Such Hounds
05 Six to Let the Light Shine Thru
06 The Whirlings
07 1000 Dreams
08 In The Thicket
09 Good Moanin
10 At Her Open Door
11 Rains in the Desert
12 Sleepy Silver Door
13 Til Kingdom Come
14 Heaven
If you enjoyed this recording, please support Dead Meadow, visit their website, and purchase Warble Womb from your preferred retailer, or iTunes [HERE]