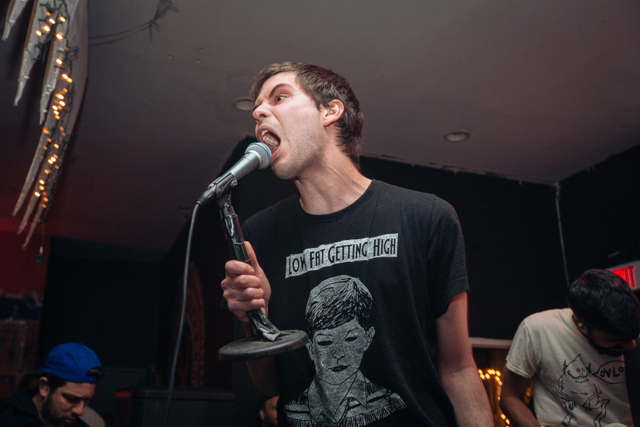 [Photos courtesy of Walter Wlodarczyk]
Big Ups sent the crowd into a frenzy from start to finish. Crowd surfers, held aloft on a sea of hands, pumped their fists. Frontman Joe Galarraga sprawled on the floor, tearing at his shirt, howling into the mic. Isn't New York talked about, in lesser cities, as a place where crowds have been there, done that, don't give a damn? Well, maybe not enough bands are asking us to pay attention. Big Ups, for their part, aren't asking.
This show was punk rock at its elemental best, played in the right kind of setting, to the right kind of crowd. Shea Stadium feels like a safe space for shirt-ripping, lung-tearing pandemonium, and that's what we got, the intimate space flung into chaos as Galarraga and his bandmates powered through songs from their killer new release Eighteen Hours of Static. Begun a few years ago when the band members were seniors in college, the Big Ups of today plays like the veteran outfit they are. What's on offer isn't just three-chord punk played loud; Brendan Finn, Amar Lal, Carlos Salguero Jr. and Galarraga deliver plenty of volume, but it's the force with which they deliver it that sets them apart. They hit like a punch to the gut. 

This set was recorded in full digital multitrack provided by the Shea Stadium team, combined with a pair of my audience mics. We'd encourage you to check out their site for their own version of this show (coming soon) as well as a previous Big Ups show and those of hundreds of other bands.
Big Ups will be playing this Monday, March 3 at Baby's All Right, followed by the traditional tour down to Texas for South By Southwest. Check out the dates here.
Stream "Goes Black"

Stream "Wool"

Download the complete show: [MP3] | [FLAC]
Note: All of the material on this site is offered with artist permission, free to fans, at our expense. The only thing we ask is that you download the material directly from this site, rather than re-posting the direct links or the files on other sites without our permission. Please respect our request.
Big Ups
2014-02-21
Shea Stadium
Brooklyn, NY USA
Exclusive download hosted at nyctaper.com courtesy of liveatsheastadium.com
Recorded by R.J. Gordon and acidjack
Produced by acidjack
Soundboard multitrack + Naiant X-X>Edirol R-44 [OCM]>>Adobe Audition CS5.5 (mixdown and effects)>Izotope Ozone 5 (effects, compression, limiting)>Audacity 2.0.3 (tracking, fades, additional EQ, dither, downsample)>FLAC ( level 8 )
Tracks
01 Shut Your Mouth
02 Goes Black
03 Not Today
04 [banter]
05 TMI
06 Wool
07 Fresh Meat
08 Rash
09 Negative
If you enjoyed this recording, PLEASE SUPPORT Big Ups, visit their website, like them on Facebook and buy Eighteen Hours of Static there.