[Photos by acidjack]
There was no shortage of hate for SXSW this year, and there are some good and less-good reasons why. Let's just say that when a member of one band attending this mostly-musicians-only post-SXSW get-together at a remote ranch in Dripping Springs, Texas described this show as a "cleansing experience", nobody argued. The worst aspects of the festival are opposed not only to what music is about, but what musicians are about. Musicians, for the most part, are a gentle, generous sort of people. The whole point of their endeavor is to give.
Cross Record were the hosts of this particular event, and their humble attitude is reflected in the way you hear vocalist/guitarist Emily Cross talk about how much time she has left, when it's her band's event. Luckily her husband Dan Duszynski, her main co-conspirator, was there (along with Peter Frederiksen on guitar) to remind her there was no time limit. The band played in a living room looking out on the Texas hill country, an area I was previously aware of only through a themed barbecue restaurant (you can take the New Yorker out of New York, but….). Then again, the Cross Record gang aren't exactly rural sorts themselves. Cross and Duszynski moved to the Austin area from Chicago, where they built up a loyal following for their brand of "drone-folk". Whatever you want to call it, their songs unfold slowly, carried on the slow boat of Cross' voice and dual guitars, with minimal percussion. Among bands of recent vintage, the closest comparison I can think of is Philadelphia's excellent Family Band; among better-known acts, I'd offer up another wife-husband unit, Low. To my mind, both of those are high compliments.
Cross Record are recent signees to Ba Da Bing Records, who are releasing the remaining physical copies of their latest album Be Good and, with any luck, giving them the push they need to break to a wider audience. Be Good is a special record, with Cross' deeply personal songs embedded in hypnotic atmospherics that don't overwhelm her voice, one of those you can't believe is coming out of a woman that small or young. This show was stripped back further still, with the band offering up three of their own songs, including two from their previous album, Magnetic Current, along with two lovely covers — Merle Haggard's "I Can't Hold Myself In Line" and Townes Van Zandt's "Don't You Take It Too Bad". After almost a full week of intensity in Austin, standing in crowds half-paying attention to too many bands who had lost the plot, it was cleansing indeed to see Cross there, guitar on her shoulders, singing her heart out, backed by a kick drum and a couple more guitars. It was a righteous thing. It did right by South By Southwest.
I recorded this set with my Schoeps MK4V microphones right in front of the band and their simple PA setup. It's a perfect reflection of what it sounded like to be sitting there. Enjoy!
Stream "Holy Well"

Stream "I Can't Hold Myself In Line" [Merle Haggard]

Download the complete show: [MP3] | [FLAC]
Note: All of the material on this site is offered with artist permission, free to fans, at our expense. The only thing we ask is that you download the material directly from this site, rather than re-posting the direct links or the files on other sites without our permission. Please respect our request.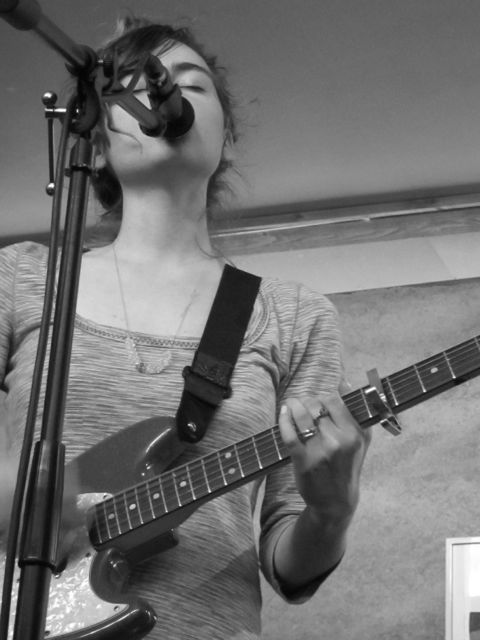 Cross Record
2014-03-15
Private Ranch
Dripping Springs, TX USA
Exclusive download hosted at nyctaper.com
Recorded and produced by acidjack
Schoeps MK4V>KC5>PFA>Edirol R-44 [OCM]>24bit/48kHz WAV>Izotope Ozone 5 (EQ, effects)>Audacity 2.0.3 (fades, tracking, amplify, balance, downsample, parallel compression, dither)>FLAC ( level 8 )
Tracks
01 Slow
02 Holy Well
03 [banter1]
04 I Can't Hold Myself In Line [Merle Haggard]
05 [banter2]
06 I Want Your Mind In Your Body
07 Don't You Take It Too Bad [Townes Van Zandt]
If you enjoyed this recording, PLEASE SUPPORT Cross Record, like them on Facebook, buy Be Good from Ba Da Bing Records and buy their other records from their bandcamp page.