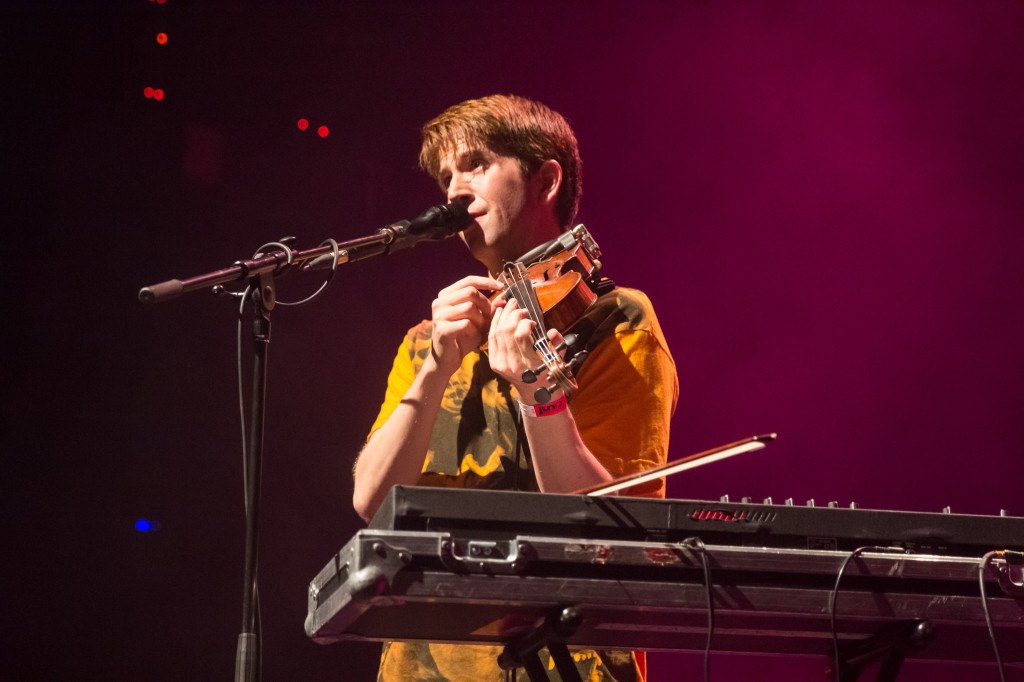 [photo courtesy of Tiana Feng – full set here]
Owen Pallett's career is roughly analogous to his music itself — multi-layered, complex and abundantly talented. In recent years, he's concentrated mostly on his arrangement and film score work, which culminated earlier this year in an Oscar nomination for the soundtrack of the film Her. This level of accolade will undoubtedly lead to more well-deserved opportunities for Owen. But his solo career has taken a bit of a back seat over the last four years. Owen's last album Heartland was released in January of 2010, and his last tour was that Spring, when we experienced an outstanding show at Webster Hall (recording here). But on May 27, Owen Pallett will release his first new album in over four years In Conflict (Domino Records) and on Tuesday his current tour reached Glasslands. Owen has added a percussionist and a bass player to the live band, but as always the focus is completely on his center position where he mans the keyboard, violin and loop petals to create his own orchestra for each song. The set began with some older material before visiting some of the In Conflict songs, including the title track. Mid-set the band took a break, Owen asked for requests and played three tracks alone. The band returned for the balance of the show, a mix of old an new material. We're streaming the night's final song, a power version of "Lewis Takes Off His Shirt" that led to extended and vociferous applause. I left a little extra crowd noise at the end of the show for the listener to understand the enthusiasm of the fans. Owen's tour has moved on to Europe, but we expect he will be back for Summer or Fall dates in NYC.
I recorded this set with our venue-installed Naiant cardioids mixed with an excellent soundboard feed, and the sound quality is superb. Enjoy!
Stream "Lewis Takes Off His Shirt":

Download the Complete Show [MP3] / [FLAC]
Note: All of the material on this site is offered with artist permission, free to fans, at our expense. The only thing we ask is that you download the material directly from this site, rather than re-posting the direct download links or the files on other sites without our permission. Feel free to re-post the Soundcloud link. Please respect our request.
Owen Pallett
2014-05-13
Glasslands Gallery
Brooklyn, NY USA
Digital Master Recording
Soundboard + Audience Matrix
Soundboard + Naiant X-R Cardioid > Edirol R-44 (Oade Concert Mod) > 2x 24bit 48kHz wav files > Soundforge (mixdown, level adjustments, set fades, downsample) > CDWave 1.95 (tracking) > TLH > flac (320 MP3 and Tagging via Foobar)
Recorded and Produced
by nyctaper
Setlist
[Total Time 1:25:41]
01 Midnight Directives
02 Scandal At The Parkdale
03 Keep The Dog Quiet
04 Soldier's Rock
05 In Conflict
06 The Secret Seven
07 Tryst With Mephistopheles
08 E Is For Estranged
09 Arctic Circle
10 This Lamb Sells Condos
11 This is the Dream of Win and Regine
12 The Great Elsewhere
13 Infernal Fantasy
14 The Riverbed
15 [encore break]
16 Song for Five and Six
17 Lewis Takes Off His Shirt
If you download this recording from NYCTaper PLEASE SUPPORT Owen Pallett, visit his website, and purchase In Conflict from the Domino Records website [HERE].