Follow @acidjacknyc


[Images from the Mountain Jam Website]
While the latest breakup/hiatus of the always-volatile Black Crowes may have chagrinned the band's fans, one thing it brought back to the forefront were the separate efforts of its dynamic duo, the brothers Chris and Rich Robinson, who are each out on the road supporting their own material. For his part, Chris seemed more than comfortable as the sole bandleader with the Chris Robinson Brotherhood here at Mountain Jam. If I'm being honest, his distinct voice has always been what I saw as the Crowes' secret sauce, distinguishing them from other retro-minded acts, and Robinson's own songs stood up well next to he and his brother's combined catalog. Robinson also couldn't resist sharing a little Crowes goodness, throwing "I Ain't Hiding" into the mix along with a great cover of Dylan's "Crash On the Levee (Down In the Flood)". The mellow vibes laid down on this final day of the Jam nicely complemented the sounds to come from Sean Ono Lennon's the GOASTT (that recording here), Lucius (that one here), and of course, the festival's ultimate headliner, the Allman Brothers.
I recorded this set with Schoeps MK4V microphones into a nice and warm custom Aerco preamp. Though there are the usual minor issues caused by wind and distance, the sound quality is overall excellent. Enjoy!
Stream "Crash On the Levee (Down In the Flood)" [Bob Dylan]

Stream "Rosalee"

Download the Complete Show [MP3] | [FLAC]
Note: All of the material on this site is offered with artist permission, free to fans, at our expense. The only thing we ask is that you download the material directly from this site, rather than re-posting the direct links or the files on other sites without our permission. Please respect our request.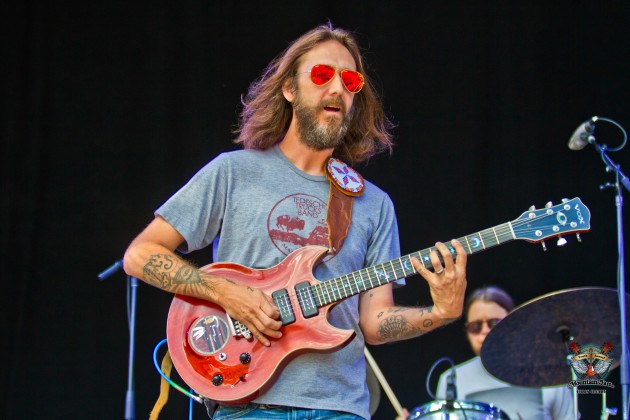 Chris Robinson Brotherhood
2014-06-08
Mountain Jam X (East Stage)
Hunter, NY USA
Exclusive download hosted at nyctaper.com
Recorded and produced by acidjack
Schoeps MK4V (Right of SBD, PAS)>KC5>CMC6>Aerco MP-2>Sony PCM-D50>24bit/48kHz WAV>Izotope Ozone 5 (EQ, exciter)>Audacity 2.0.3 (fades, tracking, amplify, balance, downsample, dither)>FLAC ( level 8 )
Tracks [Total Time 1:08:15]
01 Let's Go, Let's Go, Let's Go [Hank Ballard and The Midnighters]
02 Shore Power
03 Beggar's Moon
04 Clear Blue Sky & the Good Doctor
05 Crash On the Levee (Down In the Flood) [Bob Dylan]
06 Vibration & Light Suite
07 I Ain't Hiding [Black Crowes]
08 Rosalee
If you enjoyed this recording, please support Chris Robinson Brotherhood, visit their website, and buy stuff there.