[photos by acidjack]
Phish represents a lot of things that people don't understand. Tell those who listen to almost all of the other bands I listen to that you're going to a Phish show, and expect rolled eyes and chuckles. At one time, Phish meant to its fans the continuation of the promise of The Grateful Dead and the beautiful movement they created; that gave way, in short order, to Phish being a juggernaut in its own right. If anything, the band's very stylistic and and generational dissimilarity to the Dead is a key source of lament for its detractors. For others, so is the fact that they play really long songs, some of which have wincingly twee lyrical concepts. These things, I'll concede.
Some people will never be convinced, but if you're in the mood to be, you could do worse than starting with this excellent Village Voice blog post. Maybe a Phish show is a "you have to be there" kind of thing, but I'd like not to think so. Their career was, after all, built in part by people sharing live tapes. If you listen to this recording, in particular the emotional rollercoaster of a kickoff to the second set from "Punch You In the Eye" into "Carini", followed by an especially cosmic rendition of "Ghost", you might get an inkling of what this is all about when its firing on all cylinders. What's on offer is neither party music nor music school pyrotechnics nor straight ahead rock n' roll, but some combination of all three, a high wire act of a journey for its audience that only masters of their craft could create. One can't ignore, too, the skills of Phish's crew, especially veteran light man Chris Kuroda, who makes Phish's shows as visually stunning as anything in the music business, and the entire FOH sound crew, who accomplished the difficult feat of making a windy, open-field outdoor venue sound flawless.
I haven't attended a huge number of shows myself (this was the first I taped since 1999, though I've attended others since then), so, as was commented on our post of last night's show, I won't allow myself standing to say whether this was a "great" Phish show. But it was a reminder of the many things this band has done so right. Haters might ask themselves what they have against a band who created a community this large and this durable organically, turning their hard work into something commercially successful and culturally relevant, even if not to the mainstream. "Phish 3.0" at this point has a little something for everybody, community-wise, continuing to grow its fan base from the grizzled vets to the kids in their early 20s getting into their groove for the first time. For us tapers, seeing the band at this point is part ritual, part nostalgia trip. Most people are aware that they sell very good soundboard recordings on their site, meaning what we're doing doesn't have the same relevance, maybe, that it did before. But the mere act of recording the band is, for us, our connection to the community and to a band that for many of us was the one that brought us into the hobby to begin with. We share the recordings not only because they represent our own personal takes on the show, but out of tradition, community, and the original spirit that made this band what it is today.
I recorded this set from the same position nyctaper used for last night's recording, forward of the board and dead center. Tonight's recording was made with Schoeps MK4V cardiod microphones and the warm Aerco custom preamp. The crowd was generally respectful around us, meaning the only occasional flaws are gusts of wind that were stronger than those experienced last night. Enjoy!
Download the complete show: [MP3] | [Direct FLAC] | [FLAC torrent at bt.etree.org]
If the above MP3 link is not working, use this one: [MP3]
Stream "Carini"

Stream the full set: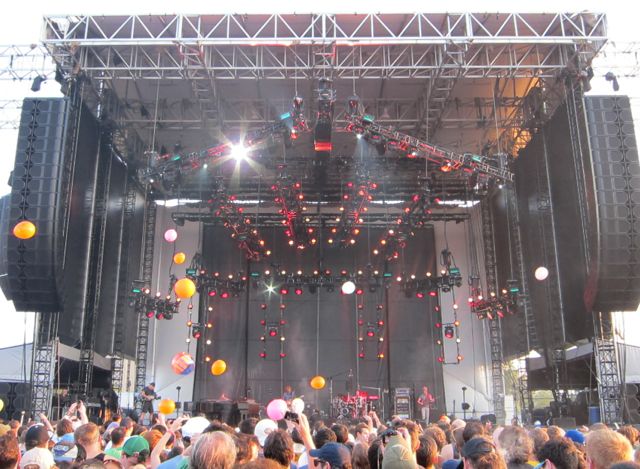 Phish
2014-07-12
Randall's Island
New York, NY USA
Hosted at nyctaper.com
Recorded and produced by acidjack
Schoeps MK4V (FOB, DFC, PAS, 7ft)>KC5>CMC6>Aerco MP-2>Sony PCM-M10>24bit/44.1kHz WAV>Izotope Ozone 5 (EQ, effects)>Adobe Audition CS 5.5 (fades, light compression)>Audacity 2.0.3 (tracking, amplify, balance, dither)>FLAC ( level 8 )
Set One [1:20:57]
01 AC/DC Bag>
02 46 Days
03 [banter]
04 Yarmouth Road
05 Devotion To A Dream
06 Free
07 My Sweet One>
08 Back on the Train
09 [banter2]
10 Halfway to the Moon>
11 Sparkle
12 A Song I Heard the Ocean Sing
13 The Line
14 Run Like An Antelope
Set Two [1:34:05]
15 [crowd in]
16 Punch You In the Eye>
17 Carini
18 Ghost>
19 Wingsuit
20 Rock N' Roll [Lou Reed]>
21 Harry Hood
22 [encore break]
23 Tube
24 Joy
25 First Tube
If you enjoyed this recording, PLEASE SUPPORT Phish, visit their website, and purchase Fuego from the Phish Dry Goods store [HERE].