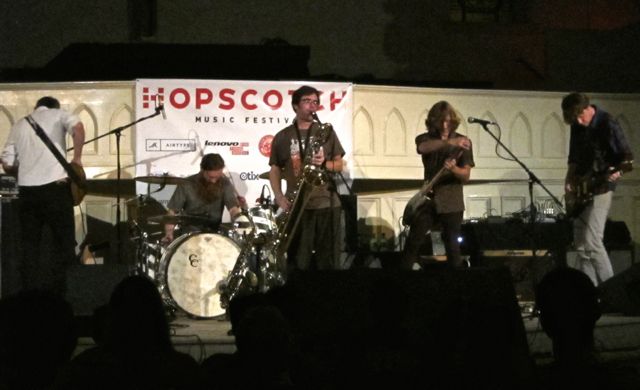 The hymnal joke you hear at the beginning of this recording relates to this show's location, in a once-decommissioned church known as the Long View Center, recently recommissioned by one of those "hipster churches" that, well, I'll just leave it to this article to debate. What needs to be known about this show is that Enemy Waves is brand-new, though its veteran members aren't, and they make some seriously angular, jazz-inflected, improvisational music. Perhaps that's one reason Hopscotch Music Festival improviser Thurston Moore chose to draw some much-deserved extra attention to this new group with an appearance on their final number, which felt like one of Moore's strongest collaborative appearances of the entire festival. It may also have had to do with the deep and weirdly varied resumes of the four members, which includes everything from drummer Jason Aylward's time in full-on 80s metal outfit Valient Thorr to guitarist Paul Siler's ownership of the King's rock club and work with Birds of Avalon, to saxophonist Dave Mueller's work as Heads on Sticks and multi-instrumentalist Crowmeat Bob's improvisational playing with Tatsuya Nakatani, Eugene Chadbourne, and others. Bob also played some bass clarinet for the North Carolina-sited HBO TV series Eastbound and Down. 
The band members gelled quickly for a set that was well-attended despite relative remoteness from some of the festival's other offerings. Hopscotch does a great job of pairing like-minded artists, and the combination of Enemy Waves with Durham, NC guitarist Matt Northrup, ambient act Helm and the vintage noise artist Tony Conrad (who also played with Moore; that recording awaiting approval) gave fans of mind-bending, you-have-to-see-it-live style music a palette that couldn't be denied. The Waves gave us four tunes total, each of extended length, with my highlights being the sax-focused "Stronach's Allely / Bleechie" and "Radiant III", the latter of which closed the show with Moore on guitar. While there isn't much to hear from Enemy Waves other than the two-song single on their bandcamp page, our hope is that this diverse group of musicians gives us more to enjoy in the future.
I recorded this set with Schoeps MK41 microphones and a soundboard feed. While the design of the church building gives the music a bit of a boomy quality that is hard to avoid, I think it is a very enjoyable listen.
Download the complete show: [MP3] | [FLAC]
Stream the complete show:

Note: All of the material on this site is offered with artist permission, free to fans, at our expense. The only thing we ask is that you download the material directly from this site, rather than re-posting the direct links or the files on other sites without our permission. Please respect our request.
Enemy Waves
2014-09-05
Hopscotch Music Festival
Vintage 21
Raleigh, NC USA
Exclusive download hosted at nyctaper.com
recorded and produced by acidjack
Schoeps MK41 (at SBD, DINa)>KCY>Z-PFA + Soundboard>>Edirol R-44 [OCM]>2x24bit/48kHz WAV>Adobe Audition CS 5.5 (align, levels, mix down, compression)>Izotope Ozone 5 (EQ, effects, imaging)>Audacity 2.0.3 (track, amplify, balance, fades, dither and downsample)>FLAC ( level 8 )
Tracks
01 [intro]
02 Bone Marrow Transplant
03 [tuning]
04 Warriors Tabooed
05 Stronach's Alley / Bleechie
06 [tuning2]
07 Radiant III*
* with Thurston Moore
If you enjoyed this recording, please support Enemy Waves by visiting their bandcamp page.