Follow @acidjacknyc


[photos by acidjack]
Wilco, themselves the spawn of the No Depression greats Uncle Tupelo, are touring to celebrate their twentieth year as a band. Look around at acts of their longevity, and you tend to see one of two things: strict and competent adherence to a winning formula (Foo Fighters, Pearl Jam) or aggressive experimentation and reinvention (Radiohead). Wilco may claim to do both — there's a straight line from the rock n' roll stomp of a song like A.M>'s "Casino Queen" (the second to last song of the night) to a song like "Wilco (The Song"), which opened the night. But there is also that seismic shift to point to that began on Being There and solidified on Yankee Hotel Foxtrot which catapulted the band beyond their existing limits into the realm of something special. The kind of band that, in gracing the renewed Capitol Theatre for the first time, belongs firmly in the first rank of bands that made that place famous.
This set was, if one can call it such, the usual harassment of riches from this band — two hours and twenty minutes long, 30 songs, and many old and underplayed favorites. "Casino Queen" joined Doug Sahm's "Give Me Back the Key To My Heart" and "Too Far Apart" in a semi-amplified acoustic set that closed the evening, and early material (and a fair number of ballads) was the rule for much of the night. "Hummingbird" found touring guitarist Nels Cline on a tear that left Tweedy to say "I don't think you'll hear it like that ever again". The beauty of this band is that even with three nights of shows in the same venue (all of which we are covering), you'll never hear something the same way again.
I recorded this set with Schoeps MK5 and an MK8 microphone in the "mid-side" configuration to maximize control over reverberation and crowd noise. The sound quality is excellent. Enjoy!
Download the complete show: [MP3] | [FLAC]
Permanent Links if the above is not working: [MP3] / [FLAC]
Stream the complete show: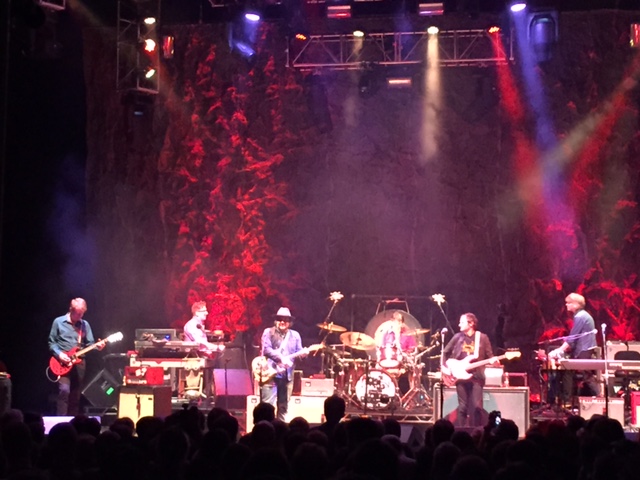 Wilco
2014-10-28
Capitol Theatre
Port Chester, NY USA
Exclusive download hosted at nyctaper.com
Recorded and produced by acidjack
Schoeps MK5c+MK8 (M-S, at SBD, slightly ROC)>KCY>Z-PFA>Sound Devices USBPre2>Sony PCM-D50>24bit/48kHz WAV>Voxengo MSED (decode M-S)>Adobe Audition CS 5.5 (adjust levels, fades, compression)>Izotope Ozone 5 (light EQ, light effects)>Audacity 2.0.5 (tracking, fades, amplify, balance, downsample, dither)>FLAC ( level 8 )
Tracks [Total Time 2:22:15]
01 Wilco (The Song)
02 I Must Be High
03 You Are My Face
04 Shouldn't Be Ashamed
05 At Least That's What You Said
06 Handshake Drugs
07 Side With the Seeds
08 Promising
09 Sunken Treasure
10 Reservations
11 Muzzle of Bees
12 Spiders (Kidsmoke)
13 [banter]
14 She's A Jar
15 War on War
16 Magazine Called Sunset
17 Hummingbird
18 On and On and On
19 How to Fight Loneliness
20 Kamera
21 [banter2]
22 Country Disappeared
23 Hate It Here
24 Theologians
25 Monday
26 Dawned On Me
27 Shot In the Arm
28 [encore break]
29 Kingpin
30 I'm A Wheel
31 [encore break 2]
32 Too Far Apart*
33 Casino Queen *
34 Give Me Back the Key To My Heart [Doug Sahm]*
* performed semi-amplified
If you download this recording, PLEASE SUPPORT Wilco, visit their website, and purchase their official releases at their website [HERE].