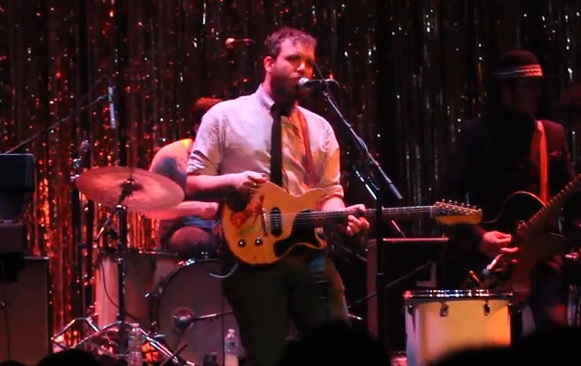 The Brooklyn band Caveman have been several times on these pages in the last few years, including most recently a sold-out show at Webster Hall in the Spring of last year. After a lengthy quiet period, in October the band played a cluster of shows and we found out why — they're recording a big batch of new songs. We were fortunate to capture the first of these recent shows, the one year anniversary show for Baby's All Right where Caveman debuted six new songs. We are streaming the excellent "Without You" below, at the beginning of which lead singer Matthew Iwanusa announced that its from "a record that will not come out anytime soon". We're not sure why that's the case since the band seems to have enough solid material for another strong album, and the songs seem very much to be finished. We checked over at Fat Possum Records, where Caveman still appears to be an active artist, so for now we can just enjoy these songs and wait for official news. The Baby's show also included a nice selection of older material from the band's first two albums, and finished with a lengthy Vampirer/Old Friend that we're also streaming below. There are no current tour dates for Caveman, so we'll assume they're still recording the new album.
This set was recorded by House FOH Devin, who provided a superb live mix of the multitrack. There are also cardioid microphones installed on the lighting rig about 15 feet in front of the stage. In post-production, I mixed the two sources and the results are quite excellent. Enjoy!
Stream "Without You":

Stream "Vampirer / Old Friend":

Download the Complete Show [MP3] / [FLAC]
Note: All of the material on this site is offered with artist permission, free to fans, at our expense. The only thing we ask is that you download the material directly from this site, rather than re-posting the direct links or the files on other sites without our permission. Please respect our request.
Caveman
2014-10-15
Babys All Right
Brooklyn, NY USA
Digital Soundboard + Audience
Multitrack Recording
Multitrack Soundboard (engineered and recorded by Devin Foley) > Devin mix Wav files + Room mic wav files > Soundforge (level adjustments, setfades) > CDWave 1.95 (tracking) > TLH > flac (320 MP3 and Tagging via Foobar)
Produced by nyctaper
Setlist:
[Total Time 57:20]
01 My Time
02 Shut You Down
03 Down In The Morning
04 Easy Water
05 Without You
06 [banter – Brooklyn]
07 Ankles
08 [banter – storms]
09 Dirty Baby
10 I See You
11 [banter – birthdays]
12 You Found A Feeling
13 Project
14 [banter – thanks]
15 In The City
16 [encore break]
17 Vampirer – Old Friend
If you download this recording from NYCTaper, we expect that you will PLEASE SUPPORT Caveman, visit their website, and purchase their first two albums from the Fat Possum Records site [HERE].