Follow @acidjacknyc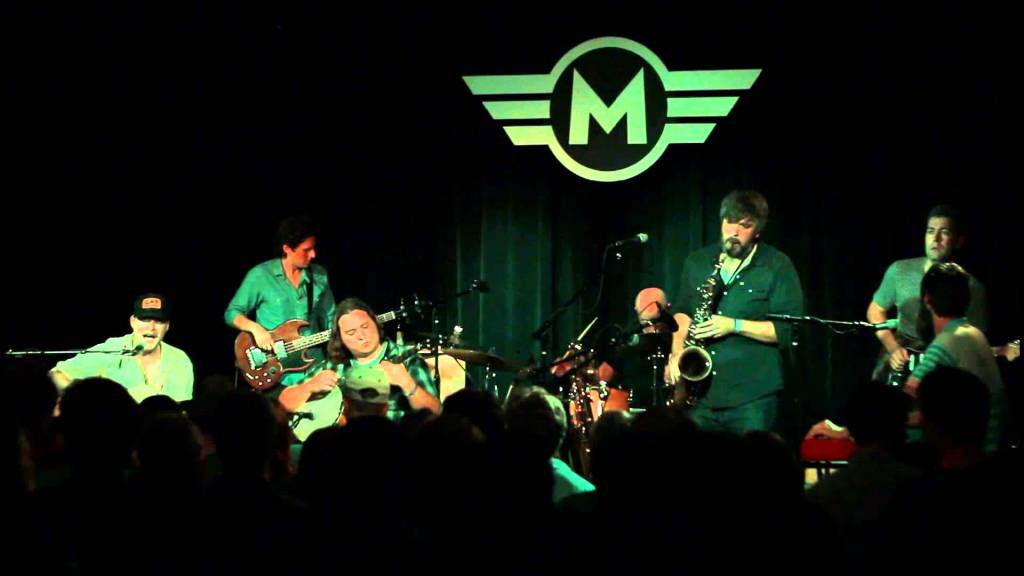 [Screen capture from video by Dan Schram]
When I was told I had to track down this show because it was, as a friend told me, "completely bonkers", I didn't quite know what to expect. After all, Hiss Golden Messenger is a band rarely seen in the same configuration twice, as I noted in my recent review of the Rough Trade show that featured the most consistent band that MC Taylor has toured with in years. But this friend doesn't make  statement like that lightly, so I figured I would search this thing out.
I shouldn't have been surprised that Dan Schram, likely the most prolific taper in the Triangle right now, had pulled this off. He offered me the raw tracks, which he said, quality-wise, weren't very good. I volunteered, amateur though I am, to work what magic I had available on them. In my humble opinion, what you'll hear below is pretty damn great.
The result is what you hear below. Whether "bonkers" or not is a matter of how you use that word, but it's certainly unique, even by HGM standards. First of all, it wasn't supposed to occur at Durham's Motorco at all. Part of a summer series in the Sarah P. Duke Gardens, this HGM show ended up at the indoor venue after the weather failed to cooperate and thunderstorms shut the original plan down. Then there's how this show begins, surely the first and only time that the words of Martin Luther King will be intoned over the opening song, the Haw discard "Brother, Do You Know the Road?". (As my respect for Taylor could not be clearer, I don't mind saying that cutting that track is not something I quite understand). The song also led off the first full-band HGM performance I ever saw, and if anything, this version was even more powerful vocally.
The band itself was an unusual assemblage of local and less-local musicians, too, including longtime collaborators Scott Hirsch and Terry Lonergan, to Black Twig Pickers and Pelt's Nathan Bowles, to one of his new band's now-permanent members, Matt Douglas on saxophone. In my ways, this show felt like a pivot point in the band's live style, turning them in the direction ultimately followed on Lateness of Dancers and its subsequent tour. Together the group lent new depth to less-played Haw tracks like "Cheerwine Easter" and "Sweet As John Hurt", with "Cheerwine" unfolding into a psychedelic jam (perhaps it wasn't a coincidence that Taylor talked a lot about hippies during this set). If a better version of that song has been played by this band, I would love to hear it. You could say the same thing about the "Jesus Shot Me In the Head" that follows a similar route later in the set, where Douglas, guitarist Chris Boerner and keyboardist James Wallace really let fly.
Maybe some of Taylor's particular passion flowed from the presence of his son Elijah in the audience, who was the subject of "I've Got A Name for the Newborn Child". If that could be felt in the extra little runs here and there, in the easygoing vibe on the stage, then it's a double blessing that he came along. Just be to be sure nothing about this show would be average, Taylor also invited the boy on stage for the show's final "bonkers" moment, a two-cover encore of JJ Cale's "Hey Baby" (in honor of his then-recent passing), followed by Waylon Jennings' "Are You Sure Hank Done It This Way?". For an artist who has had many fine outings of late, this set may well represent this band's finest turn yet. Even if it's not brand-new, we felt like it was important to share, and hope you agree.
As noted, I didn't record this set, and Dan isn't entirely sure what mic he was using either. More or less what's happening here is a mono board feed and a single microphone turned into what you hear below. In my opinion, the sound quality is outstanding. Thanks to Dan for sharing the opportunity to put this out there.
Hiss Golden Messenger's second-to-last West Coast show is tonight at the Independent in San Francisco, followed by a show on the 13th at the Masonic Lodge at Hollywood Forever in LA. After that, they're off to England and Europe for the rest of this year, resuming touring out there in February. Check the dates here.
Download the complete show: [MP3] | [FLAC]
Stream the complete show:


["Sufferer" from video by Dan Schram. Note that the audio download is different than this audio]
Hiss Golden Messenger
2013-07-31
Motorco
Durham, NC USA
Recorded by Dan Schram
Produced by acidjack
Soundboard (mono) + unknown mic (mono)>digital recorder>2x24bit/48kHz WAV>Adobe Audition CS 5.5 (mix down, create stereo separation, adjust levels)>Izotope Ozone 5 (EQ, effects, stereo effects, compression)>Audacity 2.0.3 (fades, tracking, limiter, amplify, balance, downsample, dither)>FLAC ( level 8 )
Tracks
01 [intro]
02 Brother, Do You Know The Road?
03 [banter1]
04 Red Rose Nantahala
05 [banter2]
06 O Little Light
07 [banter3]
08 I Got A Name For the Newborn Child
09 Cheerwine Easter
10 Call Him Daylight
11 [banter4]
12 Blue Country Mystic
13 The Serpent is Kind (Compared To Man)
14 [banter5]
15 Sweet as John Hurt
16 Jesus Shot Me in the Head
17 [banter6]
18 Super Blue (Two Days Clean)
19 [banter7]
20 Sufferer (Love My Conqueror)
21 [encore break]
22 Hey Baby [J.J. Cale]
23 Are You Sure Hank Done It This Way? [Waylon Jennings]
Band
MC Taylor – Vocals, guitar
Nathan Bowles – Banjo
Matt Douglas – Saxophone
Scott Hirsch – Bass
Terry Lonergan – Drums
Chris Boerner – Guitar
James Wallace – Keyboards
If you enjoyed this recording, PLEASE SUPPORT Hiss Golden Messenger, visit his website, and buy Lateness of Dancers from Merge Records and his other records from his shop. And see the band on tour.