Follow @acidjacknyc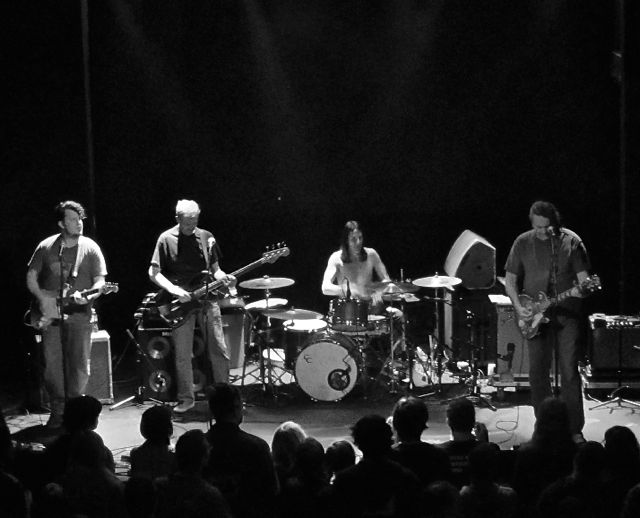 [photos by acidjack and Eric PH]
Rooting for the Meat Puppets by now is a given; the band has seen it all, and somehow come out the other side better and not worse for wear. In the course of seeing the band during the life of this site, they have gotten better and tighter each time, from their phoenix-rising moment at the Knit in 2007 to a post-personnel change show at Bowery in 2009 to a stellar outing at Mercury Lounge in 2013. This year the band played back-to-back sets at one of Williamsburg's two ascendant new venues, Rough Trade. The band shared co-headlining duties with Cass McCombs, with the acts swapping headliner slots between Halloween and the day after.
New team member Eric PH caught the longer Puppets set on Halloween night, and to be honest, he was the luckier of us, as the Puppets better-deserved that slot, showing command of their instruments and the audience on both nights. On an already-weird holiday, you need people like the off-kilter Arizonans to fully do you right, and the Pups obliged with a career-spanning set filled with fun covers of everyone from Willie Nelson and Ray Charles to the Everly Brothers. The band also delivered their most popular "hit" for an encore, the always-endearing "Backwater" from Too High To Die. As the "opening" band on the second night, I caught the Pups at an equal moment of inspiration, with a set that was slimmed down by about 20 minutes from the previous one. Still, they had plenty of time to play the three near-obligatory songs popularized by Nirvana on MTV Unplugged (that'd be "Plateau", "Oh Me" and "Lake of Fire") and a searing extended version of that Everly Brothers cover, "Cathy's Clown". "Plateau" was also a high point, led in by a cover of George Jones' "Season of My Heart". Chalk it up to being older and wiser (and maybe more sober), or simply rekindling their groove, but the Meat Puppets have never been better.
Eric PH recorded his set with Audio Technica microphones set up in our usual spot in the venue, combined with a soundboard feed from well-known local engineer Kyle. Mine was recorded with the Schoeps MK41 supercardiod microphones and Kyle's feed once again. Both recordings are outstanding, and available to stream and download below. Enjoy!
Download the 10/31 show: [MP3] | [FLAC]
Download the 11/1 show: [MP3] | [FLAC]
Stream the 10/31 show:

Stream the 11/1 show: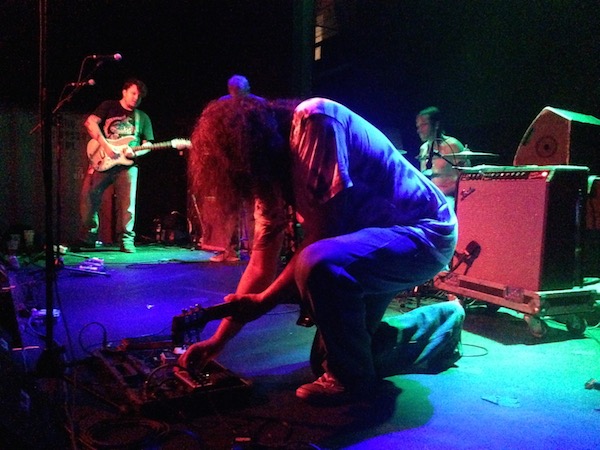 Meat Puppets
2014-10-31
Rough Trade NYC
Brooklyn, NY
Exclusive download hosted at nyctaper.com
Recorded and produced by Eric PH
Audio Technica 3031 + Soundboard > Roland R-26 > 2x24bit/48kHz WAV > Audacity 2.0.5 (set fades, mixdown, tracking, tagging) > FLAC (level 8)
01. Seal Whales
02. Comin' Down
03. The Monkey and the Snake
04. Plateau
05. Touchdown King
06. Seven Spanish Angels [Willie Nelson & Ray Charles]
07. Oh, Me
08. Before the Next Teardrop Falls [Freddy Fender]
09. Hey Baby (Que Paso) [Texas Tornados]
10. Up on the Sun
11. Sam
12. Confusion Fog
13. Lost
14. Waiting
15. I'm a Mindless Idiot
16. Open Wide
17. Cathy's Clown [The Everly Brothers]
18. Lake of Fire
19. Sloop John B [The Beach Boys]
20. Aurora Borealis
21. Backwater
_____________________________________
Meat Puppets
2014-11-01
Rough Trade NYC
Brooklyn, NY USA
Hosted at nyctaper.com
Recorded and produced by acidjack
Schoeps MK41 (DFC, PAS, at SBD)>KCY>Z-PFA>Sound Devices USBPre2 + Soundboard (engineer: Kyle)>Edirol R-44 [OCM]>2x24bit/48kHz WAV>Adobe Audition CS 5.5 (align, mix down, compression)>Izotope Ozone 5 (exciter effects)>Audacity 2.0.3 (tracking, amplify, balance, downsample, dither)>FLAC ( level 8 )
Tracks [Total Time 1:11:59]
01 [intro instrumental]
02 Lost
03 Seal Whales
04 Touchdown King
05 Sometimes Blue
06 Comin' Down
07 Up On the Sun
08 Seasons of My Heart [George Jones]>
09 Plateau
10 Sam
11 Oh, Me
12 Open Wide
13 [tuning]
14 Lake of Fire
15 [tuning2]
16 Cathy's Clown [Everly Brothers]
If you enjoyed this recording, PLEASE SUPPORT the Meat Puppets, visit their website, and buy their records there.