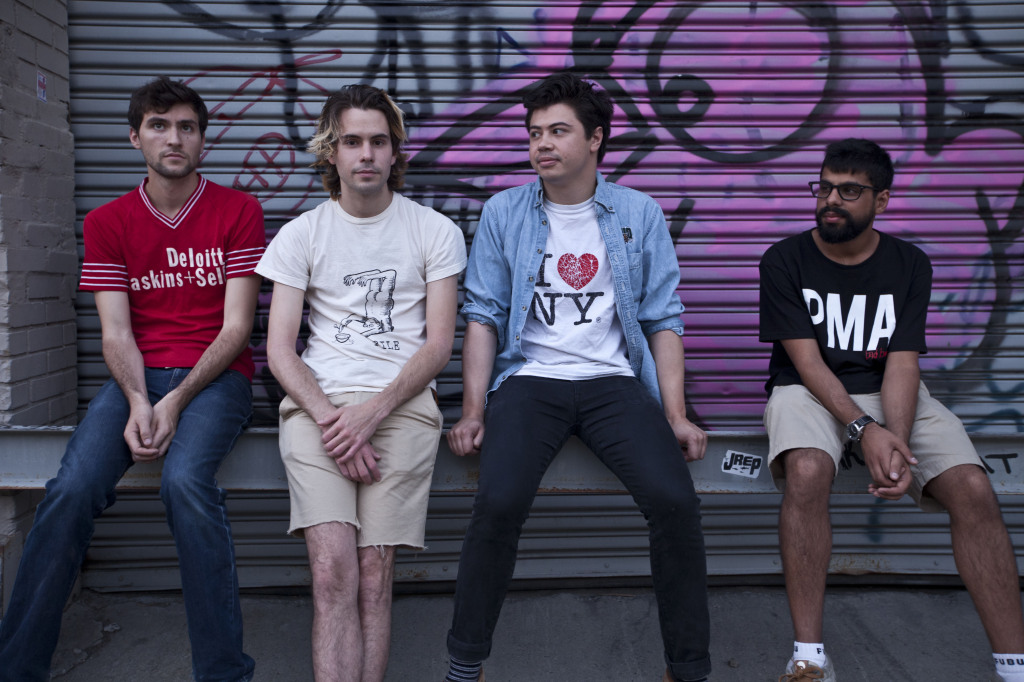 [photo by Danny Krug for Canvas Media PR]
For budding music nerds, discovering the Touch & Go catalog is an eye-opening experience. I have to imagine Big Ups enjoyed a similarly formative exploration of that catalog. They pair the post-hardcore sound of bands like The Jesus Lizard and Shellac with strikingly direct lyrics that narrate the indignities of everyday life. Joe Galarraga's frenetic vocals are tempered by the tightly wound trio of Brendan Finn, Amar Lal, and Carlos Salguero. As a unit, the band mines the tenuous territory that lies between frenzy and control, managing to teeter on the edge of chaos without retreating to the comfort of complacency—no small feat when you take a look around.
And so despite the Sunday evening opening slot, Big Ups wasted no time in challenging the crowd to shake off any post-Daylight Saving grogginess with an intense thirty-minute set at Mercury Lounge comprised of selections off their debut album Eighteen Hours of Static, the two tracks from their upcoming Exploding in Sound split 7", and a handful of new songs. Set-opener "Justice" is a wakeup call in which Galarraga wails with conviction, "Everybody says it's getting better all the time, but it's bad, still bad." It's a convincing argument with the songs that follow as its supporting evidence. Yet the songs refuse to give in or give up, convinced that it should and can get better. While not a dramatic stylistic departure from the earlier material, the duo "Rash" and "Not Today" (both out now on a split 7" with Washer) represents their most realized songs yet. If these two tracks are any indication of Big Ups' future direction, there may be hope after all.
I recorded this set from our usual location in the venue, with a soundboard feed from the Mercury Lounge FOH, Dave Lefcort. The sound is excellent. Enjoy!
Download the complete show: [MP3] | [FLAC]
Stream the complete show: 

Note: All of the material on this site is offered with artist permission, free to fans, at our expense. The only thing we ask is that you download the material directly from this site, rather than re-posting the direct links or the files on other sites without our permission. Please respect our request.
Big Ups
November 2, 2014
Mercury Lounge
New York, NY
Exclusive download hosted at nyctaper.com
Recorded and produced by Eric PH
Audio Technica 3031 + Soundboard (engineer: Dave Lefcort) > Roland R-26 > 2x24bit/48kHz WAV > Audacity 2.0.5 (set fades, mixdown, EQ, tracking, tagging) > FLAC (level 8)
01. Justice
02. Hope For Someone
03. Meet Where We Are
04. T.M.I.
05. Rash
06. Not Today
07. Yawp
08. [Unknown]
09. Wool
If you enjoyed this recording, PLEASE SUPPORT Big Ups, visit their website, like them on Facebook and buy Eighteen Hours of Static there.