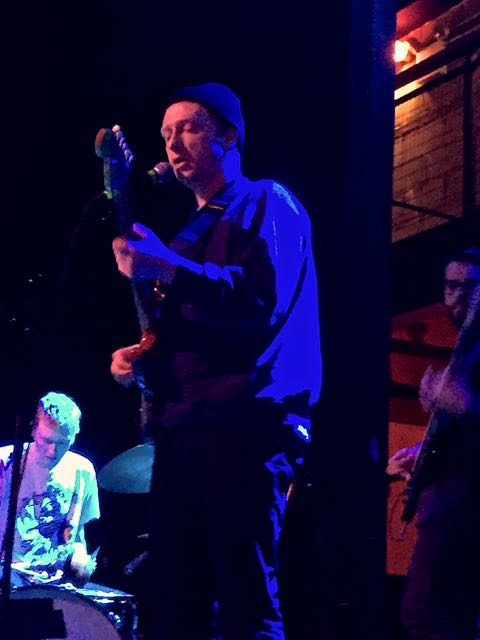 Alex Calder has done it the classic Captured Tracks way — starting out as a solo artist working on his own, expanding as his songs grew more complex into a full band. Calder took the stage for Rough Trade's first anniversary with a crack band that, like the re-released version of his latest album Strange Dreams, took his sound to the next level. Calder's songs, both from his 2015 re-release Strange Dreams to his earlier work, crackled as live versions, waking this early afternoon Rough Trade crowd up immediately. Calder has an obvious love for many generations and styles of popular music, from '60s surf and garage to the faster-paced punk and softer-edged pop work that appeared in the late '70s and early '80s. An added bonus of this set was what appeared to be some new songs, each well in keeping with the quality of Calder's current output. We hope to see another record from him this year, if we're lucky.
I recorded this set with Schoeps MK41 supercardiod microphones and a soundboard feed from house engineer Kyle. The sound quality is excellent. Enjoy!
Download the complete show: [MP3] | [FLAC]
Stream the complete show:

Alex Calder
2015-01-11
Rough Trade
Brooklyn, NY USA
Exclusive download hosted at nyctaper.com
Recorded and produced by acidjack
Schoeps MK41 (DFC, PAS, at SBD)>KCY>Z-PFA>Sound Devices USBPre2 + Soundboard (engineer: Kyle)>Edirol R-44 [OCM]>2x24bit/48kHz WAV>Adobe Audition CS 5.5 (align, mix down, reverb SBD)>Izotope Ozone 5 (EQ, imaging, effects)>Audacity 2.0.3 (tracking, amplify, balance, downsample, dither)>FLAC ( level 8 )
Tracks
01 [unknown1]
02 [unknown2]
03 Suki and Me
04 Location
05 Strange Dreams
06 Someone
07 [unknown3]
08 Marcel
09 Time
If you enjoyed this recording, visit Alex Calder's Facebook page and buy his records from Captured Tracks here.