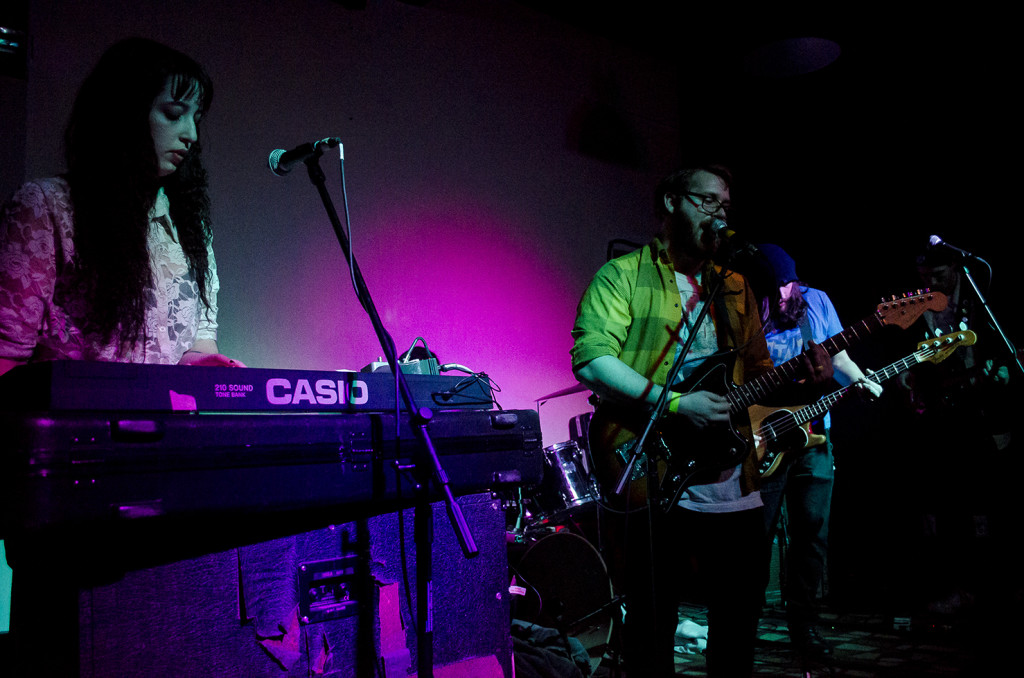 [photo by Rocketman]
You would be only half right in assuming that a band called Baked trades in hazy jams suited more to the night's comedown than its revving up. That's not to say they don't do hazy jams—nine-minute set-closer "Tolex" is proof enough of that. But they also deliver some rocking indiepop that takes unexpected turns.
Baked is a Brooklyn-based quintet composed of R.J. Gordon (vocals/guitar), Davey Jones (guitar), Jeremy Aquilino (bass/vocals), Yoni David (drums), and Isabella Mingione (keys/vocals). Their debut LP, Debt, is out on Exploding in Sound Records and they're right at home among that label's amazingly consistent roster. I caught Baked last Friday at Palisades, headlining a stacked bill that also included Brooklyn's Washer (that set posted here) and Connecticut's Furnsss. For this set, Baked pull mostly from last year's Debt, adding "8er" from their self-released, self-titled cassette, and a couple newer tracks ("I Win" and "AA"). Highlights include "Hungry Ghosts," the aforementioned longform jam of "Tolex," and the upfront keyboards and reverbed vocals on the rocking "Smoke Gets in Your Eyes."
I recorded this set with the AKG cardioids at the soundboard, plus a feed from Palisades FOH Ariel. The sound is slightly rough around the edges, but authentic to the night's experience. Enjoy!
Download the complete show: [MP3] | [FLAC]
Stream the complete show:

Note: All of the material on this site is offered with artist permission, free to fans, at our expense. The only thing we ask is that you download the material directly from this site, rather than re-posting the direct links or the files on other sites without our permission. Please respect our request.
Baked
2015-01-02
Palisades
Brooklyn, NY
Exclusive download hosted at nyctaper.com
Recorded and produced by Eric PH
Soundboard (engineer: Ariel) + AKG C480B/CK61 > Roland R-26 > 2xWAV(24/48) > Audacity 2.0.5 (mixdown, fades, EQ, amplify, downsample, dither, tracking, tagging) > FLAC (level 8)
Tracks [43:28]
01. Mick Jagger
02. Wet Blanket
03. Don't Trip
04. Codec
05. Hungry Ghosts
06. 8er
07. Smoke Gets in Your Eyes
09. AA
10. Cramsey
11. Tolex
If you enjoyed this recording, PLEASE SUPPORT Baked. Like them on Facebook and buy Debt from their Bandcamp page.