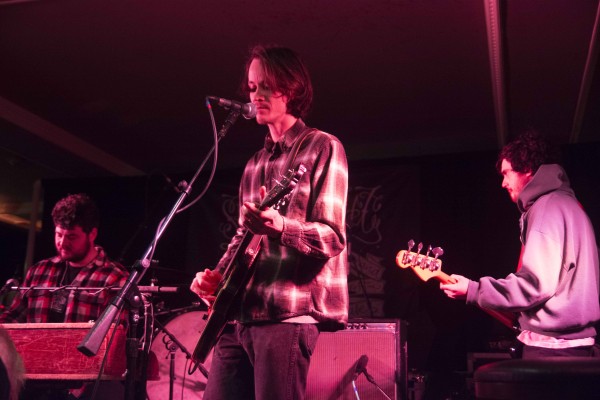 [photo by Austin Jensen]
After the tour-de-force performance by Strand Of Oaks to open the Tommy Brull Foundation Benefit, any band might be hesitant to follow such a set. But Felice Brothers were the perfect style of band to do it. The intensity and poignancy of the Strand Of Oaks set was a great way to start the show, but for the Felice's set it was truly party time. As the Foundation's stage announcements made clear, the Brulls not only enjoy raising money for good causes but they also like to have a good time. And for the Felice Brothers raucous set it was easy to have some fun. The band played a lengthy set of material from throughout their career including five songs from 2014's Favorite Waitress, and a crazy Neil Young cover to close the night. We were particularly impressed with the version of "Cus" (streaming below) and the ultra-rare "Ruby Mae" that featured some added lyrics that sounded like an old traditional folk song. The Felice Brothers are currently on a 3-week tour in Australia, and we'd encourage our friends down under to catch their highly entertaining set.
I recorded this set in the exact same manner as the Strand Of Oaks set and the sound quality is equally superb. Enjoy!
If you download this recording, you should donate the Brull Foundation. This particular show was a benefit to fund a special needs playground in Rockville Centre and to continue contributions to Camp Anchor.
Download Complete Show [MP3] or [MP3] / [FLAC] or [FLAC]
Stream "Cus's Catskill Gym:

Note: All of the material on this site is offered with artist permission, free to fans, at our expense. The only thing we ask is that you download the material directly from this site, rather than re-posting the direct links or the files on other sites without our permission. Please respect our request, and feel free to repost the Soundcloud links
Felice Brothers
2015-02-07
Tommy Brull Foundation Benefit
Cannon's Blackthorn
Rockville Centre NY
Digital Master Recording
Soundboard + Audience Matrix
Soundboard [engineer Billy] + On-Stage Schoeps CCM4u Cardioids > Sound Devices 744t > 2 x 24bit 48kHz wavs > Soundforge (level adjustments, mixdown, EQ, set fades) > CDWave 1.95 (tracking) > TLH > flac (320 MP3/tagging via Foobar)
Recorded and Produced by nyctaper
Setlist:
[Total Time 1:29:56]
01 Meadow of a Dream
02 White Limo
03 Run Chicken Run
04 Cumberland Gap
05 You're All Around
06 Saturday Night
07 Honda Civic
08 Cus's Catskill Gym
09 Whiskey In My Whiskey
10 [banter – good people]
11 Take This Bread
12 Silver In The Shadow
13 Lion
14 Back In The Dancehalls
15 Frankie's Gun
16 Hey Hey Revolver
17 Where'd You Get The Liquor
18 Penn Station
19 Ruby Mae
20 The Mating of the Doves
21 [encore break]
22 Marie
23 Cherry Licorice
24 Rockin' in the Free World [Neil Young]
If you download this recording from NYCTaper, we expect that you will PLEASE SUPPORT The Felice Brothers, visit their website, and purchase their official releases directly from their web store [HERE]