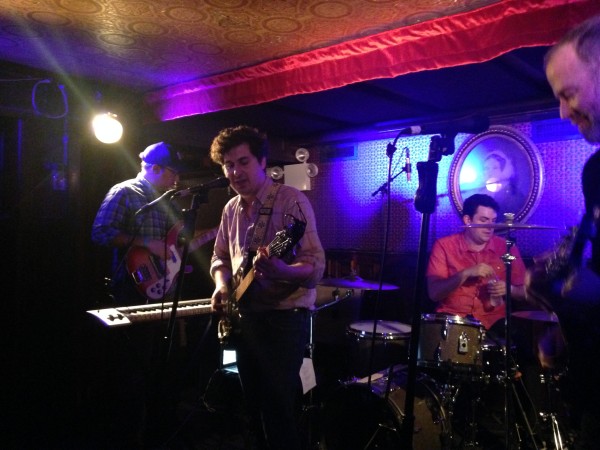 [photo by nyctaper]
Six years between albums is a long time. When we recorded Mike Pace's old band Oxford Collapse at CMJ 2008, little did we know that the group would disband shortly thereafter and Mike would retreat from the music world for more than half a decade. Oxford Collapse had a fairly successful six-year run, with two albums on Kanine Records and two on Sub Pop but called it quits in early 2009. But in collaboration with the multi-talented Matt LeMay, Mike Pace and the Child Actors released Best Boy in January — an album six years in the making. The album's collection of eleven songs contains some tracks that sound familiar to fans of Oxford Collapse's 90s-inspired guitar rock, but also has songs that develop Mike's other influences. At the album's release show at Union Hall, the band played much of the new album and a few classic rock covers. Mike rotated from guitar to keyboards to laptop which accentuated the mix of styles evident on the album. After years away from regular performance, Mike has nevertheless maintained his keen wit and ability to summon the spirit for some true moments of unbridled energy. The result was a highly entertaining show to a packed room with many smiles and lots of head bobbing. Unfortunately, Mike Pace will not be returning to full-time live performance in the very near future (he and his wife are having a baby soon) but we're confident that when he returns to the circuit, the quality of the music will remain.
I recorded this set with the Schoeps cards clamped to the low ceiling about 15 feet from the stage and mixed with a fine board feed provided by house FOH Alex. The mix of the two sources produced an outstanding recording. Enjoy!
Download the Complete Show [MP3] / [FLAC]
Stream "Cold Calling":

Stream "Movin' Out" (Billy Joel cover):

Note: All of the material on this site is offered with artist permission, free to fans, at our expense. The only thing we ask is that you download the material directly from this site, rather than re-posting the direct links or the files on other sites without our permission. Please respect our request, and feel free to repost the Soundcloud links.
Mike Pace and the Child Actors
2015-01-16
Union Hall
Brooklyn NY
Digital Master Recording
Soundboard + Audience Matrix
Soundboard [engineer Alex] + Schoeps CCM4u Cardioids > Sound Devices 744t > 2 x 24bit 48kHz wavs > Soundforge (level adjustments, mixdown, EQ, set fades) > CDWave 1.95 (tracking) > TLH > flac (320 MP3 and tagging via Foobar)
Recorded and Produced by nyctaper
Setlist:
[Total Time 52:30]
01 Fire Sale
02 [banter – record]
03 Up The Academy
04 Summer Lawns
05 [banter – thanks]
06 Southern Cordial
07 [band introduction]
08 Cold Calling
09 Surrender [Cheap Trick]
10 McKinley
11 [banter – snakes]
12 The King of Corona
13 Blues for Atuk
14 [banter – Best Boy]
15 Kiss and Fly
16 [banter – more thanks]
17 Movin' Out [Billy Joel]
18 Spirit of the Radio [Rush]
If download this recording from NYCTaper, we expect that you will PLEASE SUPPORT Mike Pace and the Child Actors, visit the website, and purchase Best Boy and their Bandcamp page [HERE].