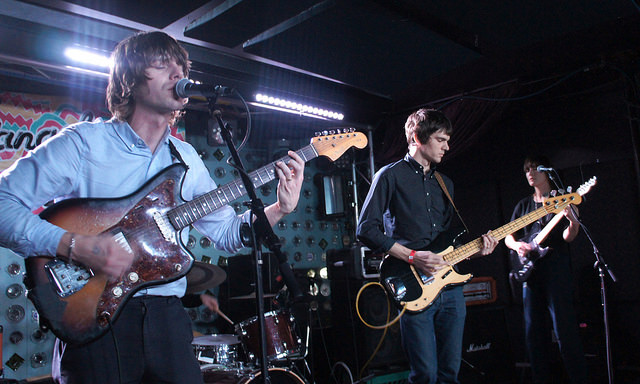 [photo by Dean Keim]
Back in October, White Fence was on an extensive tour that criss-crossed through NYC a few times, including during CMJ week when they played a bunch of shows. We were lucky to catch the band twice in less than two weeks at Baby's All Right. The mid-October recording was featured on the site contemporaneously with the show but the second night at the Panache Hangover Brunch has waited until now. This White Fence set started at about 7 p.m. but certainly felt later as we'd been in the venue since the early afternoon. We've already posted two sets from this day (Juan Waters and King Gizzard) and the White Fence set was really gravy for one of the best complete days of music we had all year. White Fence did not replicate the set from earlier in the month as they mixed up the setlist and swapped in several different numbers. But as we had previously experienced, the current White Fence quartet (with Cate Le Bon on guitar) is a unit that has been together for a while now and the performance was tight and energetic. We are streaming "Sandra" below — a near perfect performance that had the band smiling at the end.
This set was recorded by House FOH Devin, who provided a superb live mix of the multitrack. There are also cardioid microphones installed near the lighting rig about 15 feet in front of the stage. In post-production, I mixed the two sources and the results are quite excellent. Enjoy!
Download the Complete Show [MP3] / [FLAC]
Stream "Sandra":

Note: All of the material on this site is offered with artist permission, free to fans, at our expense. The only thing we ask is that you download the material directly from this site, rather than re-posting the direct links or the files on other sites without our permission. Please respect our request, and feel free to repost the Soundcloud links.
White Fence
2014-10-26
Babys All Right
Brooklyn, NY USA
Digital Multitrack Soundboard + Audience Recording
Multitrack Soundboard (engineered and recorded by Devin Foley) > Devin mix Wav files + Room mic wav files > Soundforge (level adjustments, setfades) > CDWave 1.95 (tracking) > TLH > flac (320 MP3 and Tagging via Foobar)
Produced by nyctaper
Setlist:
[Total Time 46:26]
01 Arrow Man
02 Like That
03 Trouble Is Trouble Never Seen
04 Its Confusing When You Wake Up
05 Fragility
06 Baxter Corner
07 Sandra
08 [banter – badass]
09 And by Always
10 Makers Nest And Words Freeze
11 Pink Gorilla
12 Get That Heart
13 Paranoid Bait
14 Harness
If you download this recording, we expect that you will PLEASE SUPPORT White Fence, visit the Facebook page, and purchase For The Recently Found Innocent from the Drag City Records website [HERE].