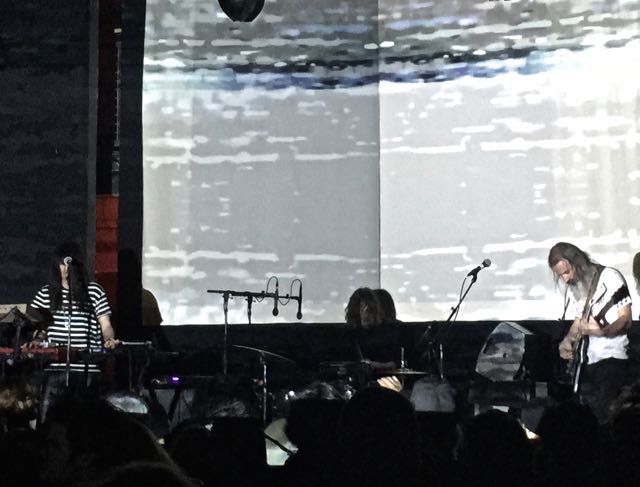 Ripley Johnson and Sanae Yamada have been making music as Moon Duo for a while now, churning out consistent albums on Sacred Bones (and earlier, Woodsist) that have delighted both Wooden Shjips fans and those who were drawn to the more organ-driven sound led by Yamada. With Shadow of the Sun, and this latest tour, the band has swung a bit more to the rock side of the things, bringing on drummer John Jeffrey, who appeared on the Live in Ravenna album as well. If Shadow represents yet another refinement rather than a quantum leap, the addition of the live drumming is noticeable, and even more so in the actual concert space — compare this set, for example, with the set I recorded in 2010.
Fans of the Ravenna live set would agree that this set at Rough Trade NYC built on some of the good things you can see there, with the live drums adding viscosity and punch to the band's hypnotic flow. The set consisted of just under half-Shadow of the Sun material. "Wilding" made for as good a kickoff for the live set as it did for the album, while "Thieves" gave Ripley an opportunity for a hardcore guitar freakout. The trio were barely visible most of the time, shrouded by an electric light show that matched the pace and vibe of the setlist. The seventy minutes ended on a high note, with an extended "Set It On Fire" that, by the time it ended, made you feel almost as if you'd woken from a dream. This band can do that to you.
I recorded this set with Schoeps MK4V microphones mounted inside the soundboard cage, together with engineer Nick Cameron. The sound quality is outstanding. Enjoy!
Download the complete show: [MP3] | [FLAC]
Stream the complete show:

Moon Duo
2015-03-10
Rough Trade NYC
Brooklyn, NY USA
Exclusive download hosted at nyctaper.com
Recorded and produced by acidjack
Soundboard [Engineer: Nick] + Schoeps MK4V (inside SBD cage, PAS)>KCY>Z-PFA>Aerco MP-2>> Edirol R-44 [OCM]>2x24bit/48kHz WAV>Adobe Audition CS 5.5 (align, mix down, limiter, fades)>Izotope Ozone 5 (EQ, exciter)>Audacity 2.0.5 (track, amplify, balance, downsample, dither>FLAC ( level 8 )
Tracks [Total Time 1:10:00]
01 Wilding
02 I Been Gone
03 Circles
04 Free the Skull
05 Night Beat
06 Thieves
07 In the Sun
08 Motorcycle, I Love You
09 Goners
10 Animal
11 Set It On Fire
If you enjoyed this recording, PLEASE SUPPORT Moon Duo, visit their website, and buy their records from Sacred Bones Records.