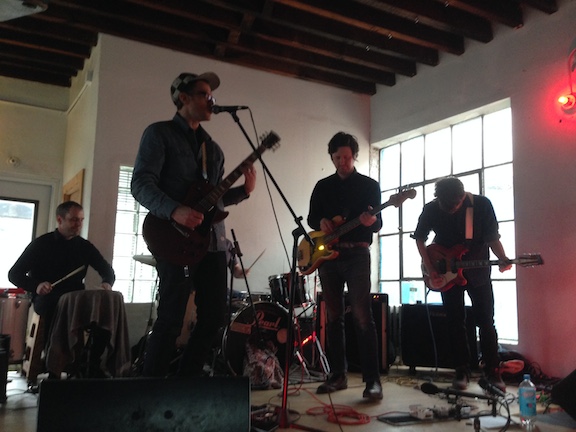 It's been a little while since we've heard from Pete Nolan's Spectre Folk. But with a new 7" out on New Images last year and Magik Markers on hiatus while Elisa Ambrogio tours her solo LP, now is the perfect moment for Nolan to reactivate his project. This past Sunday, Spectre Folk emerged for a late afternoon matinee at Trans-Pecos in an extended full-band lineup augmenting Nolan with Peter Meehan on guitar, Aaron Mullan on bass, and Steve Shelley and James Canty doubling up on drums. Like most Spectre Folk shows I've seen, this one is held together with duct tape, threatening to come untethered at any moment. But it never does, and the looseness of the approach is only endearing as the band relies on the chemistry between the players, feeling their way through a song rather than adhering to rote structure.
The band opens with "Mothership," off their recent 7", that song extending over both sides of the 7" and totaling around twelve minutes in its recorded form. Here it's a bit leaner but retains the jammy nature of the original. "Blowing Tornadoes," "Coke," and "Please Don't" appear to be new songs, while Spectre Folk staples "Sat Around," "The Blackest Medicine," and "Keep Your Teeth Clean" are off Compass, Blanket, Lantern, Mojo and the 2011 Woodsist EP, The Blackest Medicine, Part II. Spectre Folk shows are always a welcome event, but seeing these tracks fleshed out by the full band is an added bonus and I hope the appearance of new material means we'll be seeing more of this lineup soon.
While there are currently no further scheduled Spectre Folk dates, you can catch Magik Markers at Cafe Nine in New Haven on April 30th.
I recorded this set with the mics set up at the stage in a 90 degree spread plus a soundboard feed from Trans-Pecos FOH Max. The left mic captures Nolan's guitar and Canty's drums while the right mic captures Meehan's guitar and Mullan's bass, with Shelley's drums in the center. In post-production I cross-faded the guitars slightly to sound more central, while retaining the overall stereo sound of the recording. The sound is excellent. Enjoy!
Download the complete show: [MP3] | [FLAC]
Stream the complete show:

Note: All of the material on this site is offered with artist permission, free to fans, at our expense. The only thing we ask is that you download the material directly from this site, rather than re-posting the direct links or the files on other sites without our permission. Please respect our request.
Spectre Folk
2015-03-15
Trans-Pecos
Queens, NY
Exclusive download hosted at nyctaper.com
Recorded and produced by Eric PH
Soundboard (engineer: Max) + AKG C480B/CK61 (stage lip, DFC, 90 degrees) > Roland R-26 > 2xWAV (24/48) > Adobe Audition CC (align, mixdown) > Izotope Ozone 5 (EQ, exciter, imaging, reverb) > Audacity 2.0.5 (amplify, fades, downsample, dither, tracking, tagging) > FLAC (16/44.1, level 8)
Tracks [42:53]
01. Mothership
02. [tuning]
03. Blowing Tornadoes
04. [tuning/banter]
05. The Blackest Medicine
06. [tuning/banter]
07. Sat Around
08. [tuning]
09. Keep Your Teeth Clean
10. [tuning/banter]
11. Coke
12. [tuning/banter]
13. Please Don't
If you enjoyed this recording, PLEASE SUPPORT Spectre Folk. Buy the Mothership 7″ via New Images and other Spectre Folk releases at the Arbitrary Signs Bandcamp.