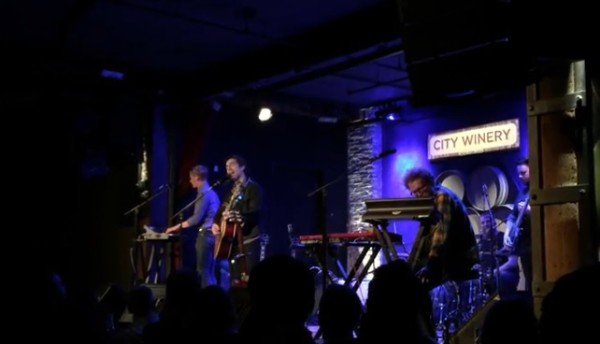 [screen shot from this video]
Blitzen Trapper has always been a band who embraces their influences. Whether it be country-folk, 70s rock or even Zep, we've seen the band play some pointed covers over the years. I even had the pleasure of seeing lead singer Eric Early perform an outstanding mini-Dylan set at the Complete Last Waltz show in 2013.
For this year's Record Store Day, Blitzen Trapper took it to the next level — releasing a limited edition vinyl of a complete performance of Neil Young's Harvest recorded live in Portland last Fall. Accompanying the release, the band went on a small tour playing Harvest along with a selection of their own material. We caught the early show at City Winery on Friday, a venue that so impressed us during last weekend's Mountain Goats shows. Despite the still-daylight starting time, the band came out ready to play with four of the own songs right out of the gate. The set's centerpiece piece began with the familiar opening chords of the plaintive "Out on the Weekend" (streaming below), a performance so spot-on that we knew this would be a pleasure to behold. The remainder of Harvest was equally impressive — extraordinarily faithful to the original renditions while adding a very Trapper-like flavor to each number. The rest of the set was equally well played as the band worked through a fine selection of BT classics, highlighted by the well-jammed ten-minute "Thirsty Man" and a terrific version of "Furr" that we're also streaming below.
I recorded this set with the Schoeps cards mounted on a pole about 10 feet in front of the soundboard and mixed with an excellent feed provided by the band's touring FOH Engineer Nathan Vanderpool. The sound quality is superb. Enjoy!
Download the Complete show [MP3] / [FLAC]
Stream "Out on the Weekend" (Neil Young cover):

Stream "Furr":

Blitzen Trapper
2015-04-17
(Early Show)
City Winery
New York NY
Digital Master Recording
Soundboard + Audience Matrix
Soundboard [Engineer Nathan Vanderpool] + Schoeps CCM4u Cardioids > Sound Devices 744t > 2 x 24bit 48kHz wav files > Soundforge (post-production) > CDWave 1.95 (tracking) > TLH > flac (320 MP3 and tagging via Foobar)
Recorded and Produced by nyctaper
Setlist:
[Total Time 1:24:06]
01 Black River Killer
02 Not Your Lover
03 Love The Way You Walk Away
04 Lady on the Water
05 Out on the Weekend
06 Harvest
07 [banter – record store day]
08 A Man Needs a Maid
09 Heart of Gold
10 Are You Ready for the Country
11 Old Man
12 There's a World
13 Alabama
14 The Needle and the Damage Done
15 Words (Between the Lines of Age)
16 Fletcher
17 Thirsty Man
18 [encore break]
19 The Man Who Would Speak True
20 Furr
21 [banter – NY]
22 Might Find It Cheap
If you download this recording from NYCTaper, PLEASE support Blitzen Trapper, visit their website, and purchase their official release from the Store at their website [HERE].