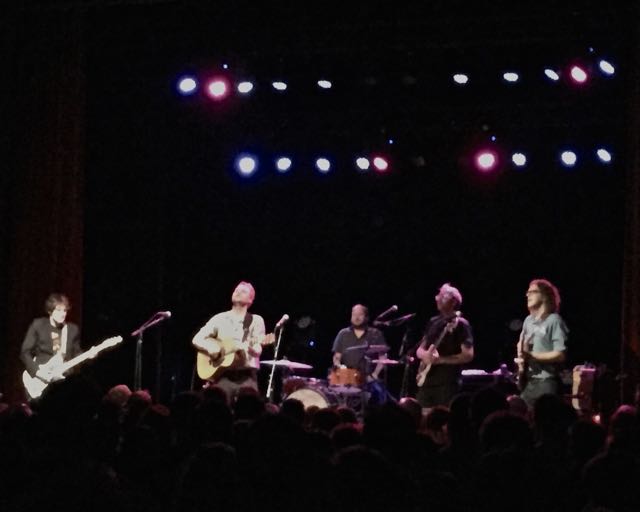 The best Hiss Golden Messenger songs are the ones about a search for spiritual peace as well as life's basic comforts, the ones that revel in doubt. I thought a lot about that as I watched the band play their first hometown gig in quite a while. The band's most recent EP is called Southern Grammar, after the song originally featured on their Merge Records release Lateness of Dancers, and that got me to thinking what "Southern grammar" could mean. The language of the modern South is one of a stubborn constancy bred with ecstatic change, and nowhere is that more evident than in North Carolina, and even more specifically, at this picturesque complex along the Haw river. After driving through miles of deep country, you come upon a collection of structures that includes a "general store"/gas station stocked with a deep microbrew selection and gourmet food, a puppeteering center, a "butchery" (they sell a delicious hot dog with a schmear of pimento and cheese and bacon slivers), a pub, a brewpub specializing in "farmhouse ales", some luxury condos down the street in a renovated cotton mill and dye house, and finally, the crown jewel of it all, the 800-capacity Haw River Ballroom, which the band sold out on this Friday night.
Does that remind you of anywhere? If you live in Brooklyn, you might be thinking of Williamsburg Bushwick Bed-Stuy Crown Heights almost any neighborhood. But that's in New York City, where sentimentality has always taken a back seat to the imperatives of commerce. Historically, at least, the South has been a more hidebound place. The rural parts of it, for sure.
What does any of that have to do with Hiss Golden Messenger? Well, like this resurgent part of their adopted home region, Hiss Golden Messenger changes quickly without abandoning tradition. They're a band who, after Taylor described my September 2014 recording as "what we sound like now", sounded only part-way similar on this day in April of 2015. The "new" South changes its clothes, changes its tune, to a degree, but in what is new, there will always be those deep strains of something old. Same with this band.
In the case of HGM circa-this-week in 2015, the something old is '70s AOR, the country-flavored, jammy rock of Creedence Clearwater Revival and the like. Joined by Nashville's finest living guitarist William Tyler as a special guest, along with Brad and Phil Cook of Megafaun on guitar and bass, and Matt McCaughan on drums, the fivesome rocked the Haw River Ballroom in the way that's only right for a hometown show. With regular saxophonist Matt Douglas on tour with the Mountain Goats, the guitars redoubled their efforts in his stead. The net effect was songs more muscular and immediate, a musical place where a song like "I'm A Raven (Shake Children)" has absolutely never sounded better, and the deep sadness of "Call Him Daylight" found itself taking a back seat to the insistence of the honky-tonk guitars. Several of the band's big tent numbers felt more prominent: "Saturday's Song" and "I've Got A Name for the Newborn Child" in particular sidling up to a brand-new one tentatively titled "Say It Like You Mean It" that added some heavier guitars to the proceedings, with Tyler adding his own psychedelic wash to the mix. I'll admit, I missed the more measured pace of previous versions of "Daylight", where the words get more space, but that's alright; if you don't quite connect with any particular version of an HGM song, there'll always be another on the way.
That doesn't mean, by any stretch, that this show was all good times and fluff. There was the opening number, "Brother, Do You Know the Road" (featured on Southern Grammar), whose call and response was more poignant than ever. It's about the way out out of a sense of worthlessness, about the storm that's passed over, but not before the rain was found. By the time the main set closed with "Southern Grammar" we were meditating on that road again, the flashes of darkness evident even through the song's feel-good sound.
The encore brought it all together, with Taylor dedicating "Red Rose Nantahala" to the state's Tea Party governor, Patt McCrory, whose recent back-tracking does little to hide his past agenda. There stood Taylor on his home turf, pleading "Well let me be the one I want / well let me love the one I want", and you felt that same question rising from the hearts of so many people in this fine state that have had their basic decency denied them under that false mantra of "tradition". But before things got too heavy-handed, Taylor shifted gears as he does so well, ending the night with a disco ball and Sam Cooke's "Having A Party", as if reminding us all that we were all friends, here at least.
In all, this was the longest HGM set I've been in attendance for, and one delivered with the confidence that comes not only with success, but being at home. It laid bare HGM's own tensions between tradition and evolution, and that revealed something else worth knowing about this still-growing band. That they not only have the capacity to change, but the urgency to. They'll keep traveling the unfamiliar country, and keep taking the long way home.
I recorded this set with Schoeps MK4V cardiod microphones and a soundboard feed provided by the Haw River Ballroom staff, with the generous assistance of my friend and prolific North Carolina taper Dan Schram. The sound quality is excellent. Enjoy!
Download the complete show: [MP3] | [FLAC] 
Stream the complete show: 

Hiss Golden Messenger
2015-04-17
Haw River Ballroom
Saxapahaw, NC USA
Exclusive download hosted at nyctaper.com
Recorded and produced by acidjack
Tracks [Total Time 1:25:46]
01 Brother, Do You Know the Road?
02 [banter]
03 Call Him Daylight
04 Saturday's Song
05 Say It Like You Mean It [new/working title]
06 [banter2]
07 Mahogany Dread
08 [banter3]
09 I've Got A Name For the Newborn Child
10 Day O Day (A Love So Free)
11 Lucia
12 [banter4]>Blue Country Mystic
13 I'm A Raven (Shake Children)
14 Southern Grammar
15 [encore break]
16 Red Rose Nantahala
17 [banter5]
18 Having A Party [Sam Cooke]
Band:
M.C. Taylor – Vocals, Guitar
William Tyler – Guitar
Matt McCaughan – Drums
Phil Cook – Bass, Vocals
Brad Cook – Guitar
If you enjoyed this recording, PLEASE SHOW YOUR SUPPORT by buying Hiss Golden Messenger's records from Paradise of Bachelors and Merge Records, as well as HGM's online store.