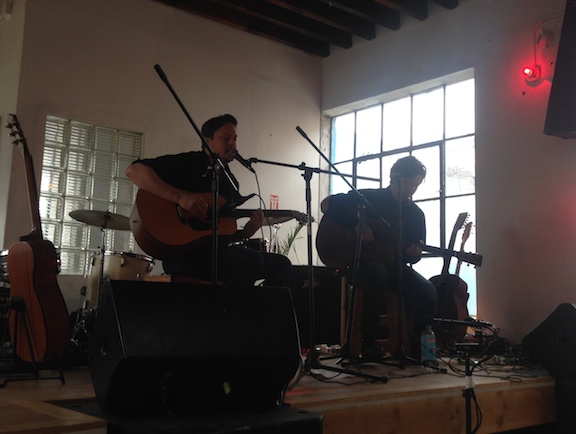 The last time we had a Tall Firs set here on NYCTaper was way back in May of 2008. At the time, the band were playing songs off their first self-titled record and its followup Too Old to Die Young. As an electric trio, Dave Mies and Aaron Mullan were augmented by drummer Ryan Sawyer. Nearly seven years later, we caught up with Tall Firs again, this time with Mies and Mullan performing acoustically as a duo. In the intervening years, the band released their third record, Out of It and Into It, and could often be found performing at the latest iteration of the All Tomorrow's Parties music festival.
For their afternoon matinee set at Trans-Pecos, the band's quieter side is on display, setting the tone with a cover of Vic Chesnutt's "Bakersfield," from his first album Little. It's no simple feat to do Chesnutt's vocals justice, but Mies pulls it off with astounding grace, managing to sound like himself while still channelling Chesnutt's emotive delivery. Tall Firs originals "Crooked Smiles" and "Suffer So Long" are off their most recent record, Out of It and Into It, while "So Messed Up"—which I always think of as the quintessential Firs track—is off Too Old to Die Young. "Ghost Light" and "Winter Wind" appear to be new songs, so perhaps we can expect some more new material on the way soon—and we certainly won't wait another seven years to catch Tall Firs.
I recorded this set from the stage lip in the same manner as the Spectre Folk set from the same day, though this recording relies more heavily on the board feed. Despite some ambient noise from a few of the younger Tall Firs fans in attendance, the sound is quite enjoyable!
Tall Firs will be back at Trans-Pecos on April 25 for the intimate concert series, Heartworn Subways, along with Sue Garner, Lee Ranaldo, and Alan Licht. Advance tickets are still available.
Stream and Download via Bandcamp

Note: All of the material on this site is offered with artist permission, free to fans, at our expense. The only thing we ask is that you download the material directly from this site, rather than re-posting the direct links or the files on other sites without our permission. Please respect our request.
Tall Firs
2015-03-15
Trans-Pecos
Queens, NY
Exclusive download hosted at nyctaper.com
Recorded and produced by Eric PH
Soundboard (engineer: Max) + AKG C480B/CK61 (stage lip, DFC, 90 degrees) > Roland R-26 > 2xWAV (24/48) > Adobe Audition CC (align, mixdown, compression, limiter) > Izotope Ozone 5 (EQ, exciter, imaging) > Audacity 2.0.5 (amplify, fades, downsample, dither, tracking, tagging) > FLAC (16/44.1, level 8)
Tracks [23:04]
01. Bakersfield [Vic Chesnutt]
02. So Messed Up
03. [banter/tuning]
04. Ghost Light
05. [banter/tuning]
06. Crooked Smiles
07. [banter/tuning]
08. Winter Wind
09. Suffer So Long
If you enjoyed this recording, please support Tall Firs. Like them on Facebook, visit their website, and buy Out of It and Into It via ATP Recordings.