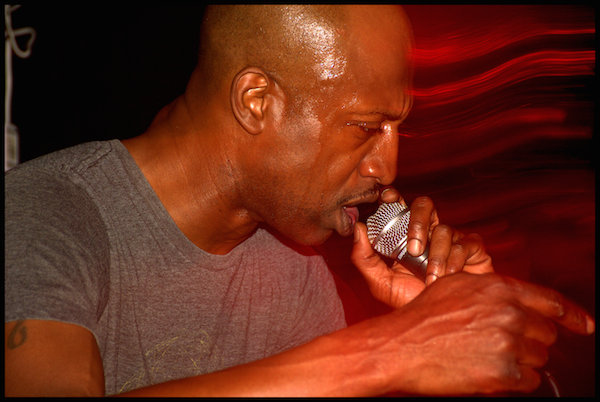 [Photo by Jason House, I'm Just Here For the Bands]
Last year's Louder Space wasn't so much a breakthrough album for Obnox as it was a perfect distillation of Lamont Bim Thomas' prolific garage-punk/hip-hop outfit. If the juxtaposition of those two genres gives you pause, fear not: Thomas is equally comfortable whether he's doing an MC5-inspired cover of Neil Young's "Ohio" or namechecking Mary J. Blige. He's followed up Louder Space this year with the excellent Boogalou Reed (on 12XU) and the just-released Know America (on Ever/Never Records), an airwaves-takeover-style concept record. And in case I didn't sufficiently highlight the word "prolific," he's got another record coming Ever/Never later this year. Even with this wealth of new material, last week's Obnox set from Cake Shop (currently celebrating their ten-year anniversary) is packed with hits from the deepest reaches of their discography: "How to Rob (The Punk Years)," "Molecule," "Mecca Son Shine," and "Red I" from Louder Space; "Dough" and the title track from the "Smoke Woody Haze" EP; "Being Cleveland" from the double LP Corrupt Free Enterprise. The newer tracks are "Loudpack" and "Grease" from Know America, and "Watching You" from Boogalou Reed. Meanwhile, "Carmen, I Love You" is out digitally but a vinyl issue seems imminent. Some technical troubles prevented Thomas from playing guitar for the bulk of the set, but what's missed in his distorted guitar work is more than made up for by his on-point vocal delivery and best-in-the-business stage banter.
I recorded this set with a pair of AKGs set up at the stage lip and a pair of Church Audio cards positioned to pick up the monitors. Very special thanks to Cake Shop's engineer Jeff, who made this recording possible by helping me out with a loaner stand. The sound is excellent. Enjoy!
Download the complete show: [MP3] | [FLAC]
Stream the complete show:

Note: All of the material on this site is offered with artist permission, free to fans, at our expense. The only thing we ask is that you download the material directly from this site, rather than re-posting the direct links or the files on other sites without our permission. Please respect our request.
Obnox
2015-05-15
Cake Shop
New York, NY
Exclusive download hosted at nyctaper.com
Recorded and produced by Eric PH
AKG C480B/CK61 (stage lip, DFC) + Church Audio CA-11 Cardioids (PAS, ROC) > CA-9100 >> Roland R-26 > 2x WAV (24/48) > Adobe Audition CC (align, mixdown) > Izotope Ozone 5 (EQ) > Audacity 2.0.5 (amplify, fades, downsample, dither, tracking, tagging) > FLAC (16/44.1, level 8)
Tracks [49:27]
01. [Intro]
02. The Get It Inn
03. Watching You
04. [tech break]
05. Dough
06. How to Rob (The Punk Years)
07. [tech break]
08. Mecca Son Shine
09. Carmen, I Love You
10. Being Cleveland
11. Grease
12. Red I
13. Molecule
14. Loudpack
15. Smoke Woody Haze
Support Obnox: Facebook | Buy Know America from Ever/Never Records | Buy other Obnox records from 12XU