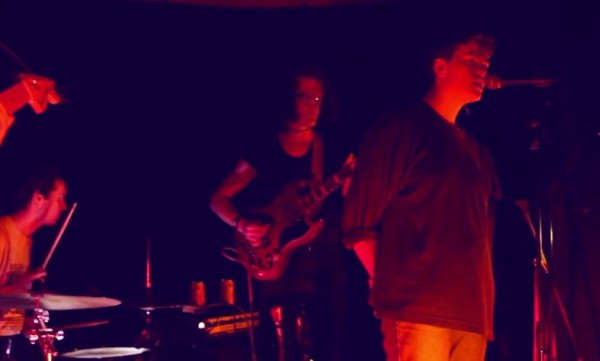 When the first and most immediate comparison I make with a current band is to the late great Pylon, you know that band has immediately won me over. Warehouse is from the same area as Pylon (Atlanta/Athens) and play the same tight and jittery math-rock that was revolutionized in the early 80's when Pylon songs like "Dub" and "Crazy" were making waves on college radio. Its heartening to know 30+ years hence that bands still feel this influence, and in the case of Warehouse, actually acknowledge the musical debt. Not surprisingly, all of this is not lost on the Eighties aficionados at Bayonet Records who have signed Warehouse to their fledgling label. At the Bayonet Northside showcase, Warehouse was the first band on the bill and one that certainly caught the early attention of the room that filled quickly when the band began to play. This set is marked by the appearance of five new (with working titles) songs in the eight-song setlist. The band's only current release is the Tesseract cassette of which three songs were played, and we are streaming "Promethean Gaze" below. Consider this recording an excellent preview of the new album, which is not expected until next year but has the early ingredients to be a stunner. We'll be waiting for it, certainly.
Warehouse is currently booking Fall tour dates. Keep posted by following them on Facebook.
This set was recorded in the same manner at the Beach Fossils set from this show (Schoeps plus Kam's feed) and the sound is equally superb. Enjoy!
Download the Complete Show [MP3] / [FLAC]
Stream "Promethean Gaze":

Note: All of the material on this site is offered with artist permission, free to fans, at our expense. The only thing we ask is that you download the material directly from this site, rather than re-posting the direct links or the files on other sites without our permission. Please respect our request, and feel free to repost the Soundcloud links
Warehouse
2015-06-12
Rough Trade
Brooklyn NY
Digital Master Recording
Soundboard + Audience Matrix
Soundboard [Engineer Kam] + Schoeps CCM4u Cardioids > Sound Devices 744t > 2 x 24bit 48kHz wavs > Soundforge (post-production) > CDWave 1.95 (tracking) > TLH > flac (320 MP3 and tagging via Foobar)
Recorded and Produced by nyctaper
Setlist:
[Total Time 28:35]
01 [new song – Criminal Lines]
02 Mental Faculty
03 Promethean Gaze
04 [new song – Oscillator]
05 Euphrates
06 [new song – Untitled1]
07 [new song – Reservoir]
08 [new song – Untitled2]
If you download this recording from NYCTaper, we expect that you will PLEASE SUPPORT Warehouse, visit their Facebook page, and purchase Tesseract from Bayonet Records [HERE].