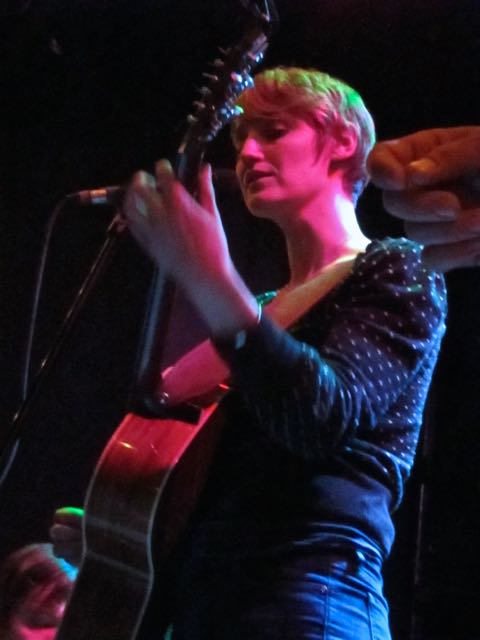 Joan Shelley released her excellent new album, Over and Even, today on No Quarter Records. For many, this will be their first time hearing these new songs, unless you checked in with NPR last week. However, the crowd on this chilly night at Union Pool back in February had almost everyone beat by several months, as Shelley decided to use this performance to show off a majority of the new album.
The Kentucky-based singer-songwriter first came to wider attention with her previous effort, Electric Ursa, but it was evident from the get-go that the new songs represent a further refinement of her craft and acknowledgment, but not a caving to, pop sensibility. The extra-approachable riff of the album's title track sets the tone for the rest of the material, making it no surprise that Stereogum made it an "Album of the Week." In doing so, they pointed out that Over and Even is more about the setting of a mood than any specific turn of phrase or even specific song, and that's not a negative. The new work, even in its fledgling form on this night, shows incredible consistency, with each number feeling a bit like an old song you're being introduced to for the first time. It's a pastoral, flawlessly crafted album that holds your attention as it takes its time to unfold.
Shelley was joined for this show not only by regular collaborator Nathan Salsburg — a force on the guitar in his own right — as well as Glen Dentinger on bass. Site favorite Nathan Bowles also made an appearance, and he's always a welcome presence on any stage. None of that can distract from the main event, of course, which is Shelley's voice and her presence, both of which manage to be delicate but resolute. What Shelley's live show drives home is just how spare and right her album's production is, as there is clearly little she needs to embellish what's already there. As good as the new songs are, Electric Ursa got its due during the show as well, with the title track of that album closing out the night, and one of its most approachable songs, "Something Small," providing a welcome dose of recognition mid-set. As requested by Joan's label, we've held back this recording until the release of Over and Even, and are thrilled to be able to share this performance on its release day.
I recorded this set with a soundboard feed from Union Pool engineer Rob, together with Schoeps MK41 microphones. The sound quality is excellent. Enjoy!
Download the complete set: [MP3] | [FLAC]
Stream the complete set: 

Joan Shelley
2015-02-12
Union Pool
Brooklyn, NY USA
Exclusive download hosted at nyctaper.com
Recorded and produced by acidjack
Soundboard (engineer: Rob) + Schoeps MK41 (PAS)>KCY>Z-PFA>Sound Devices USBPre2 >> Edirol R-44 [OCM]>2x24bit/48kHz WAV>Adobe Audition CS 5.5 (fades, compression, mix down)>Izotope Ozone 5 (effects, exciter)>Audacity 2.0.5 (track, amplify, balance, downsample, dither)>FLAC ( level 8 )
Tracks [Total Time 47:00]
01 Brighter Than the Blues
02 Wine and Honey
03 River Low
04 [banter1]
05 Over and Even *
06 Something Small
07 [banter2]
08 Stay on My Shore
09 Easy Now
10 [banter3]
11 Not Over By Half
12 Electric Ursa
Band
Joan Shelley – vocals
Nathan Salsburg – guitar
Glen Dentinger – bass
* Nathan Bowles – guitar
If you enjoyed this recording, PLEASE SUPPORT Joan Shelley, visit her website, and buy Over and Even from No Quarter Records.