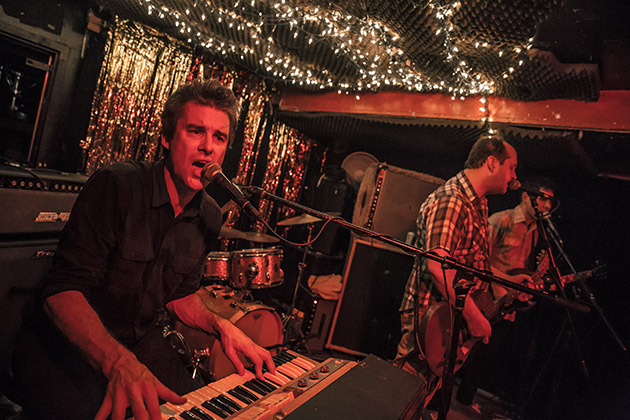 [photos courtesy of P Squared Photography]
For our umpteenth Oneida recording, it's a grab bag of songs and a nearly "classic"-era lineup—here a four piece minus Barry and (un?)official Oneida bassist James McNew (currently on tour with some other band). First up is their cover of This Heat's "S.P.Q.R." due for release soon on the upcoming Positions EP on Rocket Recordings. That segues noisily into a medley of two newer Oneida compositions, "Cedars" and "Bad Habit," the latter not heard from since May 2012 (though it was also released on the Brah Tapes set last year, currently available at the band's merch table). Classic O-jams "All Arounder," "Up With People," and "I Will Haunt You" follow. The band then wraps things up with an eighteen-minute encore of the perennial Oneida tune, "Sheets of Easter." I'm sure there are a few people out there for whom "Sheets" would be an exasperating experience; however die-hard Oneida fans are a rare sort and each time I hear it played the crowd reacts as if no song were more welcome. The finest bands bring the finest fans, no doubt.
I recorded this set with the AKG's set up on the ceiling at the edge of the stage, combined with an expert, true stereo board feed from Cake Shop FOH, Clint. The results are nothing short of spectacular. Enjoy!
Download the complete show: [MP3] | [FLAC]
Stream the complete show: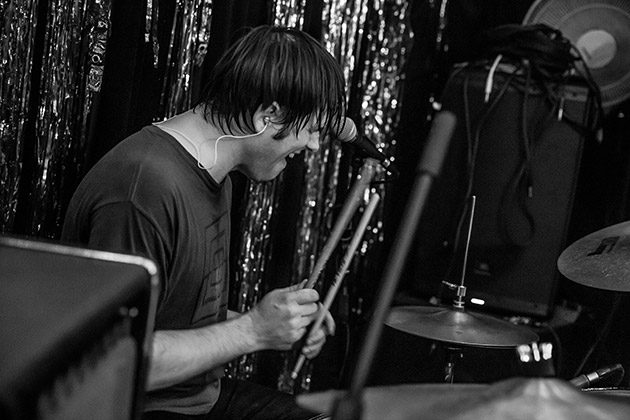 Oneida
2015-10-23
Cake Shop
New York, NY
Exclusive download hosted at nyctaper.com
Recorded and produced by Eric PH
Soundboard (engineer: Clint) + AKG C480B/CK61 (stage lip) > Roland R-26 > 2xWAV (24/48) > Adobe Audition CC (align, mixdown, normalize, fades) > Izotope Ozone 5 (EQ) > Audacity 2.0.5 (downsample, dither, tracking, tagging) > FLAC (16/44.1, level 8)
Tracks [01:06:22]
01. [Intro]
02. S.P.Q.R. [This Heat]
03. Cedars
04. Bad Habit
05. All Arounder
06. [banter]
07. Up With People
08. [banter]
09. I Will Haunt You
10. [encore break]
11. Sheets of Easter
If you enjoyed this recording, PLEASE SUPPORT Oneida. Visit their website, like them on Facebook, and buy the Positions EP from Rocket Recordings.