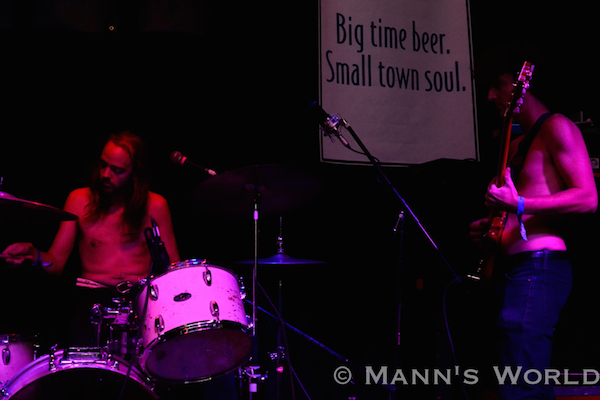 [Photo by Karen A. Mann]
Though Wizard Rifle has been on my radar for a little while now, it took a trip down to Raleigh for me to finally catch this Brooklyn-by-way-of-Portland duo. Their sound is hard to pin down, but fits in somewhere between progressive metal and Sabbath-y sludge. This set from Hopscotch drew a packed crowd to the Pour House for a heavy bill that also featured Tombs and Old Man Gloom—which is to say that Wizard Rifle were in good company. Three out of four of these songs—"Megatherium," "Tears Won't Soften Steel," and "Leathery Gentlemen"—are off the first Wizard Rifle record, Speak Loud Say Nothing. The fourth, "Psychodynamo," is off of last year's Here in the Deadlights. If you haven't heard either record, I encourage you to do so immediately because both are killer. Seeing them live finally only proves their chops are for real and I'm anticipating catching them again soon on their—and my—home turf. Dig in!
I recorded this set with the mics mounted near the soundboard plus a feed from the Pour House's FOH Jack. The sound is excellent. Enjoy!
Download the complete show: [MP3] | [FLAC]
Stream the complete show:

Wizard Rifle
2015-09-11
Hopscotch Music Festival
Pour House
Raleigh, NC
Exclusive download hosted at nyctaper.com
Recorded and produced by Eric PH
Soundboard (engineer: Jack) + AKG CK61 > actives > Roland R-26 > 2xWAV (24/48) > Adobe Audition CC (align, balance, mixdown, normalize, fades) > Izotope Ozone 5 (EQ) > Audacity 2.0.5 (downsample, dither, tracking, tagging) > FLAC (16/44.1, level 8)
Tracks [40:50]
01. Megatherium
02. [banter]
03. Tears Won't Soften Steel
04. Psychodynamo
05. [banter]
06. Leathery Gentlemen
Support Wizard Rifle: Bandcamp | Facebook | Buy Here in the Deadlights via Seventh Rule.