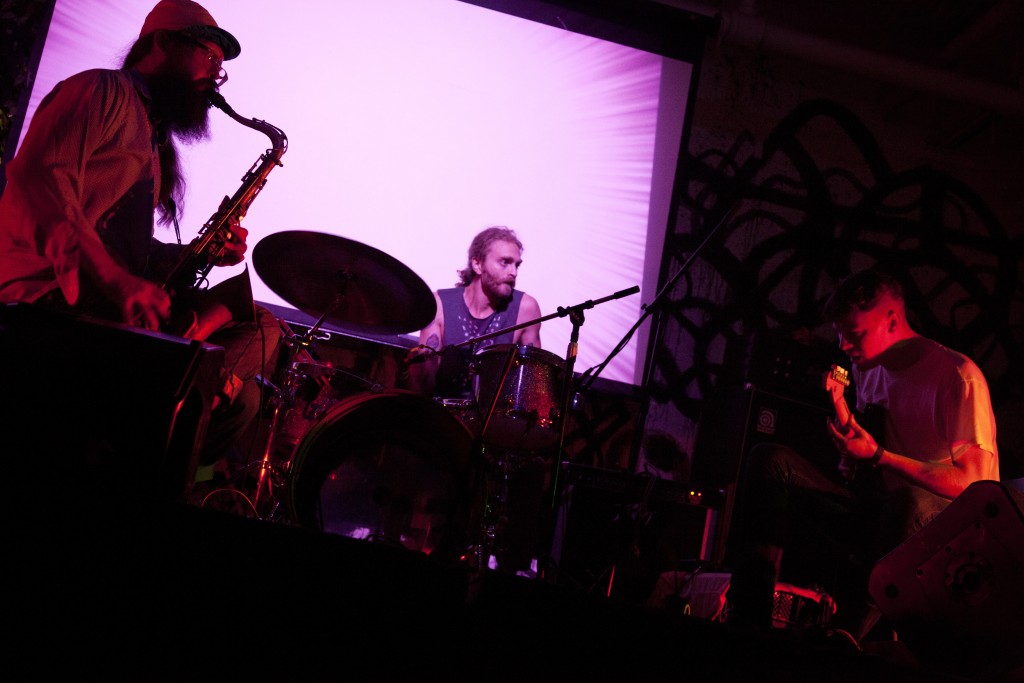 [photo from Zs website]
Our recent post of the great Greg Fox's Hopscotch Festival duo set with Jefre Cantu-Ledesma reminded me that we had this Zs performance from September at Bowery Ballroom in the archives. The chance to go back and produce the recording gave me a second listen to what was at the time an excellent set but in retrospect is really one of the most astonishing shows we've seen all year. Zs opened this night for Thee Oh Sees (posted here), an odd pairing at first glance but one that gave band leader John Dwyer a chance to reunite with Zs founder Sam Hillmer after years playing in parallel music scenes. Sam founded Zs fifteen years ago, and while the band has been a fixture in the DIY scene since 2000, the personnel has morphed over the years. The current trio of Sam, Greg and guitar wizard Patrick Higgins has coalesced into a unique mix of noise, jazz, and avant to form a truly superb musical conglomeration. The band's latest album Xe was released on the excellent local label Northern Spy in January to very strong reviews.
This performance at Bowery lasted less than an hour but kept the crowd transfixed for the entire set. For a 500-strong who came expecting some raging gararge rock, the powerful avant trio must have been a bit of a culture shock, but most picked up on the vibe pretty quickly. Zs worked through the new album in order, skipping only the opening track. The centerpiece of the set was the nearly nineteen-minute "Corps", which gave each band member a chance to take center stage and showcase their immense talents.
Zs will be playing another local show at Palisades on November 20.
Download the Complete Show [MP3] / [FLAC]
Stream the Complete Show:

Note: All of the material on this site is offered with artist permission, free to fans, at our expense. The only thing we ask is that you download the material directly from this site, rather than re-posting the direct links or the files on other sites without our permission. Please respect our request, and feel free to repost the Soundcloud links.
Zs
2015-09-08
Bowery Ballroom
New York NY
Digital Master Recording
Soundboard + Audience Matrix
Soundboard + Schoeps CCM4u Cardioids > Sound Devices 744t > 2 x 24bit 48kHz wav files > Soundforge (post-production) > CDWave 1.95 (tracking) > TLH > flac (320 MP3 and tagging via Foobar)
Recorded and Produced by nyctaper
Setlist:
[Total Time 48:11]
01 [introduction]
02 Woolf Government
03 Corps
04 Weakling
05 Xe
If you Download this recording from nyctaper, we expect that you will PLEASE SUPPORT Zs, visit their website, and purchase their new album Xe from Northern Spy Records [HERE].