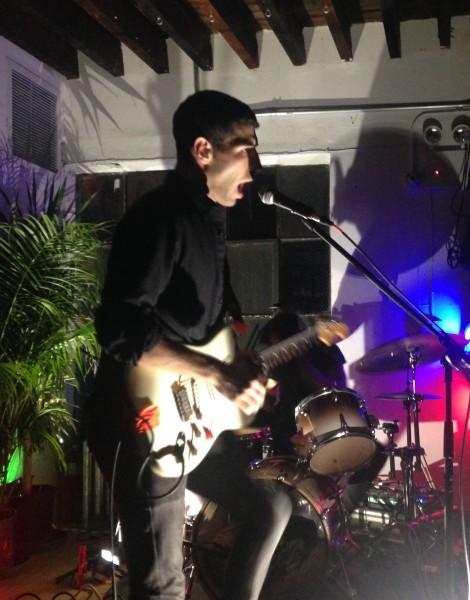 [photo by nyctaper]
My first experience with YVETTE live was a night a few years ago at Death By Audio (RIP) when the band came off the stage and played their show inside of the crowd. The set-up made recording the performance impossible, but the sheer intensity and volume of that performance by YVETTE was astounding and I've been following them ever since. Acidjack caught their set at Hopscotch a little over a year ago, and his observations were consistent with mine. In the interim, YVETTE has followed up their superb 2013 debut album Process with a single ("I Don't Need Anything From Anybody") that appeared on a Godmode compilation (American Music – GM062) and then released an EP in October called Time Management which is available on cassette and through digital download. This set from a late Thursday night at Trans Pecos draws from all three releases, and continues to astound us in the sheer largeness of it all. You would not believe if you didn't already know, but the depth of sound coming from the stage derives from a duet with Noah Kardos-Fein on guitar with various electronic enhancements and analog pedals and Dale Eisinger on drums and percussion. The overall effect is compelling and we will undoubtedly continue to follow this outstanding band.
I recorded this set with the Sennheiser cards mounted in the front of the stage and mixed with a board feed to fortify the vocals. The sound quality is quite excellent. Enjoy!
Download the Complete Show [MP3] / [FLAC]
Stream the Complete Show:

Note: All of the material on this site is offered with artist permission, free to fans, at our expense. The only thing we respectfully ask is that you download the material directly from this site, rather than re-posting the direct links or the files on other sites without our permission. Please respect our request. Please feel free to re-post the Soundcloud links.
YVETTE
2015-10-29
Trans Pecos
Queens NY
Digital Master Recording
Soundboard + On Stage Audience Matrix
Soundboard [engineer Frederico] + Sennheiser MKH-8040s Cardioids > Sound Devices 744t > 2 x 24bit 48kHz wavs > Soundforge (mixing) > CDWave 1.95 (tracking) > TLH > flac (320 MP3/tagging via Foobar)
Recorded and Produced by nyctaper
Setlist:
[Total Time 31:55]
01 Radiation
02 Sell It Off
03 Mirrored Walls
04 Rotten Animals
05 Calm and Content
06 I Don't Need Anything From Anybody
07 Cuts Me In Half
08 Morning Light
09 Absolutes
If you Download this recording from NYCTaper PLEASE SUPPORT YVETTE, visit their website, and purchase Time Management and their other releases from Godmode Records [HERE].