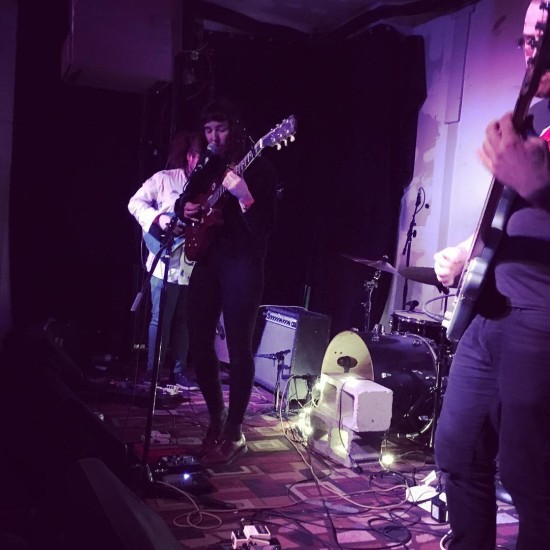 [photo by acidjack]
Its a beautiful thing to watch the deserved ascent of a high quality band. Mothers began as the solo project of Kristine Leschper before the full band formed about eighteen months ago. The addition of three superb musicians has elevated Mothers to entirely new level. When the band played the NYCTaper CMJ show in October at Cake Shop, the capacity crowd seemed to recognize that they witnessed something special — it was the best received set of the day and perhaps my favorite performance of the entire show. In the intervening three months the band's status has grown further, so as a result Friday night's show at Palisades was absolutely packed. This was the largest crowd we've seen at the venue, as it was difficult to even navigate from our taping position upfront to the back of the venue during the night. Kristine did in fact acknowledge the special nature of the evening, and indeed it also happened to be her birthday. The band itself has grown tighter musically, as lead guitarist Drew Kirby, bassist Patrick Morales and drummer Matt Anderegg (from the Athens GA musical collective Marching Banana) are clearly in sync with Leschper's unique melodies and advanced sense of tempo.
But the remarkable aspect about the size and the energy of the Palisades crowd is the fact that Mothers has not even yet released their debut album. When You Walk A Long Distance You Are Tired (Grand Jury Music) will be released on February 26, and this set featured four songs from the album. The show also featured one unreleased song that the band has been playing since last year ("Fat Chance") and an entirely new untitled song. Mother's will be touring extensively over the next few months, including a trip to London and dates at SXSW, and they will ultimately return to NYC in late April.
However, NYC is fortunate that Mothers hasn't left town yet. The band has a show tonight Monday Feb 1 at Berlin in the East Village.
We recorded this set with acidjack's Schoeps open cardioid mics mounted at the front and center of the stage lip and mixed with a board feed provided by house FOH Ariel. The sound quality is superb, enjoy!
Download the Complete Show [MP3] / [FLAC]
Stream the Complete Set:

Mothers
2016-01-29
Palisades
Brooklyn NY
Digital Master Recording
Soundboard + Stagelip Audience
Soundboard [Engineer Ariel Bitran] + Schoeps MK22 > NBob cables > PFA > Sound Devices 744t > 2 x 24bit 48kHz wav files > Soundforge (level adjustments, mixdown, set fades) > CDWave 1.95 (tracking) > TLH > flac (320 MP3 and tagging via Foobar)
Recorded and Produced
by nyctaper and acidjack
Setlist:
[Total Time 39:05]
01 Copper Mines
02 It Hurts Until It Doesn't
03 [Kristine's birthday]
04 [new song – Lay Down]
05 Lockjaw
06 Fat Chance
07 No Crying In Baseball