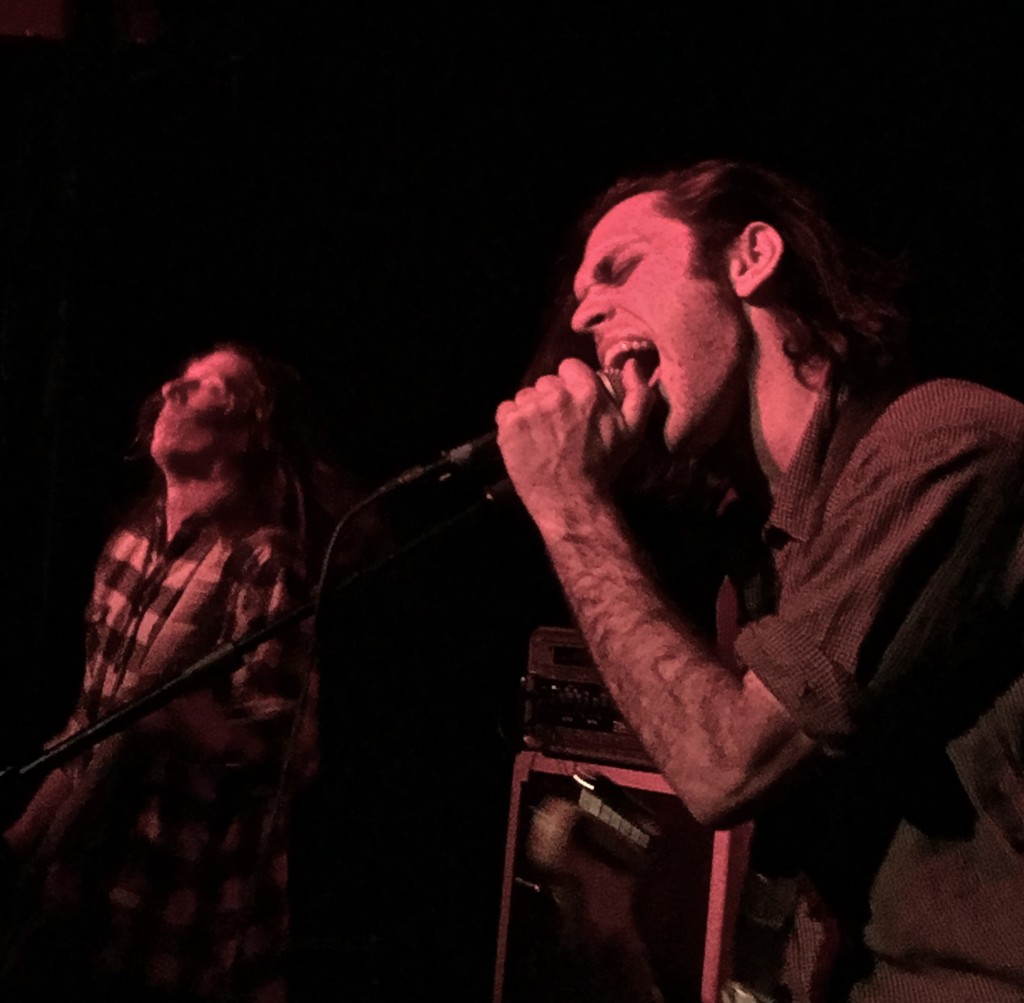 The Brooklyn post-punk band Bambara knows how to make noise. This show at Palisades, to celebrate the forthcoming release of their album, Swarm, this Friday (March 4), proved what those who've been paying attention already knew — that this band has the charisma, and the delivery, to take them beyond Bushwick DIY stages. They've already had a taste of that, of course, having toured with site favorites METZ and A Place to Bury Strangers, among others. But Swarm, the band's first professionally-recorded effort, shows this band's possibilities. It's a gloomy, late-night sort of effort, sustained by its rhythmic appeal and the band's dead-on delivery. In the live setting, they don't hold back, with frontman Reid Bateh anchoring the effort with his considerable onstage charisma while his brother Blaze hammers the drums along to William Brookshire's bass. This show covered some of the standout tracks on Swarm, as well as favorites from the band's debut, Dreamviolence. You'll have plenty of opportunities to see the band around NYC in the near future, with upcoming gigs at Berlin and Saint Vitus.
I made this recording with Schoeps MK22 open cardiod microphones at the stage lip plus a soundboard feed from Palisades FOH Leeor. While the sound is a little off balance (a tad heavy on bass guitar) it is overall a high quality listen. Stream the full show (minus banter) plus the available tracks from Swarm below as well. Enjoy!
Download the complete show: [MP3/FLAC/ALAC]
Bambara
2016-02-25
Palisades
Brooklyn, NY USA
Exclusive download hosted at nyctaper.com
Recorded and produced by acidjack
Schoeps MK22 (ORTF, stage lip)>NBob cables>PFA + Soundboard (engineer: Leeor)>Adobe Audition CS 5.5 (align, mix down, narrow onstage image)>Izotope Ozone 5 (effects)>Audacity 2.0.3 (track, amplify, downsample, dither)>FLAC ( level 8 )
Tracks
01 Her Sister, Touya
02 Filled Up With Night
03 All the Same
04 [banter1]
05 An Ill Son
06 [banter2]
07 Stop
08 All the Ugly Things
09 I Don't Mind
Check out Bambara on Facebook, and pre-order Swarm from Arrowhawk Records here.