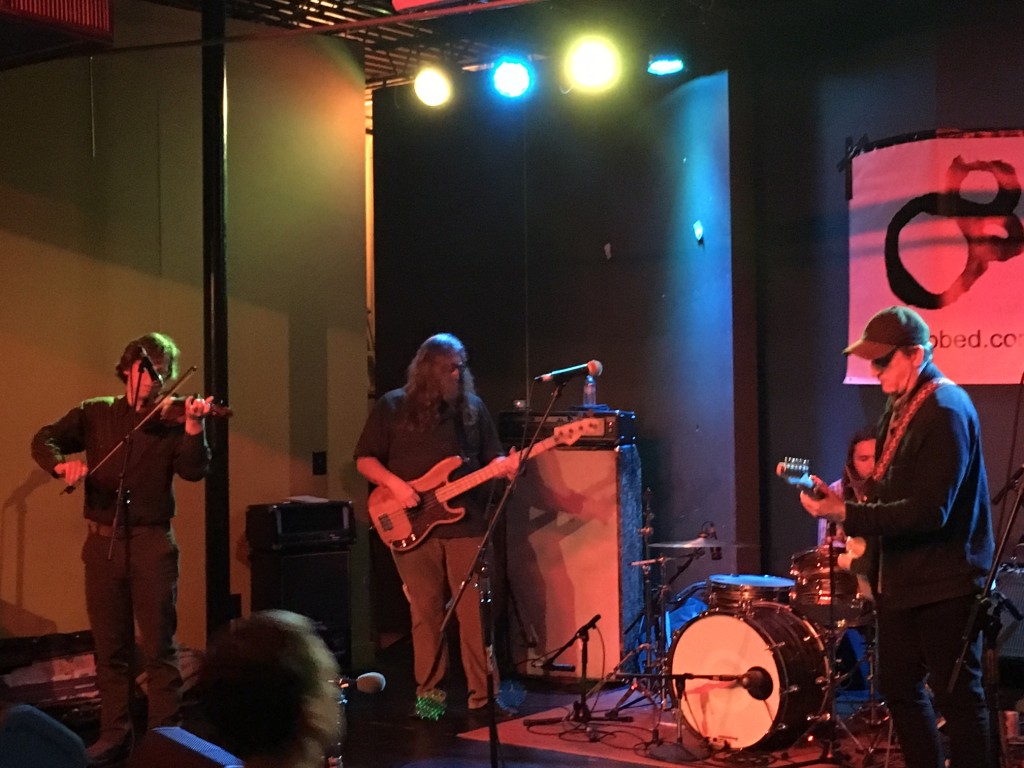 Chuck Johnson has been on this site numerous times, most recently for his work supporting Blood Moon Boulder last year at Union Pool. With his newest album, Velvet Arc, Johnson decided to go with a full band, which is a departure from his recent solo guitar work, but not an overall catalog that stretches back to various NC-based bands (Shark Quest, Idyll Swords, etc.). What emerges on the record is a bottom-heavy, bluesier strain of tunes that makes you long to see them live.
This very special performance at King's in Raleigh, North Carolina, one of ten separate sets in honor of the sixteenth anniversary of Three Lobed Recordings, was a rare, one-off appearance of Johnson performing these songs (plus "Florets," from Johnson's soundtrack work) with a full band. Rather than the West Coast-based band that recorded Velvet Arc, Johnson collaborated with longtime NC compatriots, including Mike Gangloff and Nathan Bowles (of Pelt and numerous other projects), Bob Wall, and Nathan Golub. Johnson describes the set as "loose" in his intro, but that may be a bit of modesty, as these longtime players gelled from the get-go on "Florets" before delving into Velvet Arc's leadoff track, "As I Stand Counting." You may have heard Chuck Johnson before, but you've never heard him quite like this. With the full complement of musicians on fiddle and additional guitars, we were able to hear Velvet Arc's various turns at American experimentalism as they were meant to be played.
Johnson noted, toward the end of the set, that Raleigh was where he was born, and the day and night's entire slate of performances, culled from artists who have been all over the Three Lobed roster during the past 16 years, felt like a homecoming, with the out-of-towners joining and re-joining locals who have touched their lives over the decades. Three Lobed is responsible for some of Johnson's finest releases, including Crows In the Basilica, plus earlier CDs of Idyll Swords, and this set (like many during the event) acted as both a bit of a thank-you as well as a taste of what's yet to come on this small label whose influence has always outstripped its low-key style.
I recorded this set with the benefit of a full 8 tracks, including audience microphones, onstage microphones, and several feeds of onstage instruments, courtesy of King's engineer Brad. The sound quality is outstanding. Enjoy!
Chuck plays a very special solo set tonight in New York along with Lee Ranaldo (solo acoustic) and Ancient Oceans at Trans-Pecos. Get tickets here.
Download the complete show: [MP3/FLAC/Apple Lossless]
Stream and download the complete show on our bandcamp page:

Chuck Johnson Band
2016-03-26
Three Lobed Sweet Sixteen Spectacular
King's
Raleigh, NC USA
Exclusive download hosted at nyctaper.com
Recorded and produced by acidjack
4x Soundboard channels (engineer: Brad Womack) + MBHO 603a/KA200N (FOB, DFC, PAS) + Schoeps MK22 (onstage, ORTF, DFC)>KC5>CMC6>Aeta PSP3 >> Zoom F8>8x24bit/48kHz WAV>Adobe Audition CS 5.5 (align, mix down, compression)>Izotope Ozone 5 (EQ, effects)>Audacity 2.0.3 (track, amplify, balance, downsample, dither)>FLAC ( level 8 )
Tracks
01 [intro]
02 Florets
03 [tuning]
04 As I Stand Counting
05 Roadside Auspice
06 Middle Water
07 [banter]
08 Anamet
09 [banter2]
10 Velvet Arc
Band:
Chuck Johnson
Mike Gangloff
Nathan Bowles
Bob Wall
Nathan Golub
Support Chuck Johnson: Visit his website | Buy Velvet Arc | Buy his Three Lobed releases.