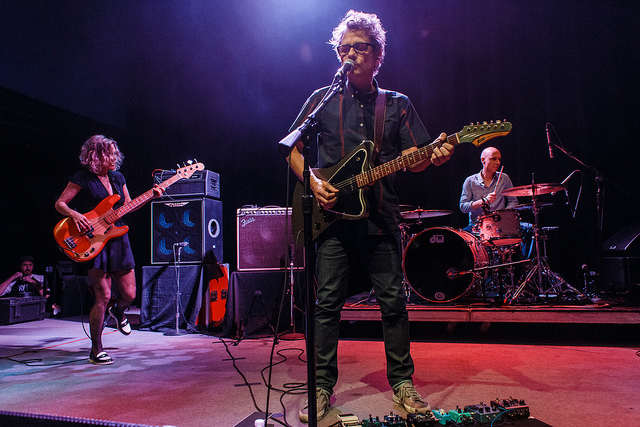 [photos by Matt Condon – courtesy of Chunky Glasses]
Last year was really the goldmine for Luna fans — a lengthy reunion tour with inventive setlists and universally strong playing. The band were happy to be back and it showed. We were pleased to have brought six recordings of Luna's 2015 concerts to NYCTaper, four of them recorded by our friend Kubacheck.
There have been a couple of nice developments in Luna land this month. Firstly, the band will be doing more concerts, this time a three-show run through Texas in May. We also found out that we're likely going to be getting some recordings from those shows. Another excellent development is the upcoming release of Britta Phillips' first solo album Luck or Magic. The album is due to be released on April 29 and can be pre-ordered through Pledge Music.
In celebration of these fine new developments, we're posting a show also recorded by Kubacheck from this past Fall. This show at the classic 930 Club in Washington came on the heels of the Atlanta show where the band had performed the complete Penthouse album. This DC show is notable for the minimal amount of stage banter and for a real workman-like but very strong run through the best material from the tour. For a topper, Luna came back out a second time for an encore and delivered a bit of a rarity — a sharp cover of Donovan's "Season of the Witch". We're hoping the shows upcoming in May will feature the same energy as the Fall tour, and I'm pretty confident they will.
Kubacheck recorded this show in the same manner as the rest of his generous contribution to the site, with his MBHO cards in an advantageous front of board position. The sound quality is excellent. Enjoy!
Download the Complete Show [MP3] / [FLAC]
Stream the Complete Show:

Luna
2015-10-06
930 Club
Washington DC
Digital Master Audience Recording
Recorded from Front of Board
MBHO 603a – KA-500 > Naiant Tinybox > Roland R-05 > 24bit 48kHz wav file > Soundforge (level adjustments, EQ, set fades) > CDWave 1.95 (tracking) > TLH > flac (320 MP3 and tagging via Foobar)
Recorded by Kubacheck
Produced by nyctaper
Setlist:
[Total Time 1:31:44]
01 Slide
02 Chinatown
03 Speedbumps
04 Sideshow by the Seashore
05 Malibu Love Nest
06 Bobby Peru
07 Tiger Lily
08 Tracy I Love You
09 Lost in Space
10 Bewitched
11 Kalamazoo
12 Moon Palace
13 Friendly Advice
14 [encore break]
15 California
16 Time to Quit
17 Twenty Three Minutes in Brussels
18 [second encore break]
19 Season of the Witch [Donovan]
If you Download this recording from nyctaper, we expect that you will PLEASE SUPPORT Luna, visit their website, and purchase their official releases from the links at their website, from Bandcamp and the Long Players Box Set from Captured Tracks Records [HERE].