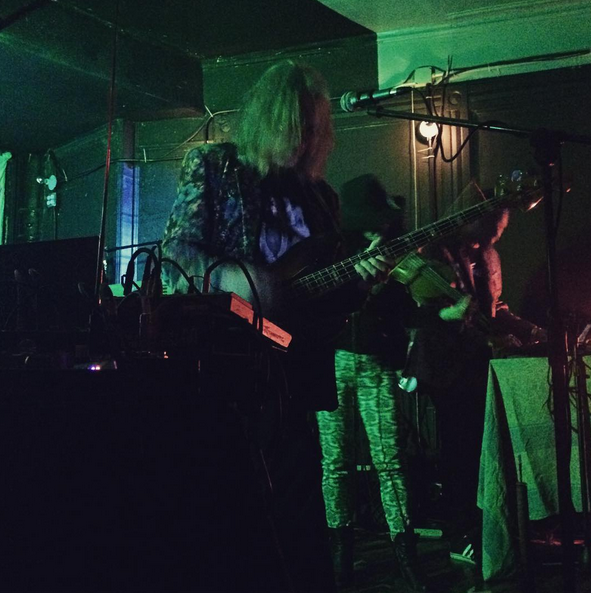 [photo by Peter Cauvel]
Difficult. Inscrutable. Brilliant. Faust's current U.S. tour is leaving concertgoers baffled in every city they've visited. Those expecting to hear the greatest hits, a complete performance of Faust IV, or even something simply coherent might be disappointed. But those of us open to the experience, a "happening" as Jean-Hervé Peron calls it, were rewarded with a unique set from the krautrock legends. The band graced us with three local stops on their tour, with one show in Jersey City at WFMU Monty Hall and a two-night stand at Market Hotel. We caught the last of those and it's really something.
Jean-Hervé Peron is less frontman and more mouthpiece or director of the group, which also includes original member Werner "Zappi" Diermaier, Maxime Manac'h, and Pas Musique. The loose collective has been going since 1971 and surprisingly for a band celebrating 45 years, the past isn't its focus. After securing blankets for the knitting ladies in front of the stage—and yes, that is a consistent feature of Faust shows on this tour—the band opens with an at least partly improvised drone that segues into the most krautrock-y song they'll play the entire evening, "Fresh Air." If you're timid or maybe approaching Faust for the first time, this track is the place to start. Next is noise-improv and Dadaist poem, "Harlekin," followed by a song called "Chlorophyll" (probably). "Partitur" is the crowd-participation part of the evening, where all leave the stage save for Zappi on drums, who orchestrates the graphic score. "Tell the Bitch to Go Home" is from a more recent Faust album, Something Dirty, while "Lass Mich" is from the band's collaboration with Nurse With Wound. "Listen to the Fish" is another latter day Faust classic and then Peron encores with a solo performance of "Cendre" (again, probably). I have to admit that not all made it through to the end of this challenging set. But no one can deny that Faust is a singular band and anyone there to witness this performance won't soon forget it.
I recorded this set with our installed Audio Technica 4051 mics and a board feed from Market Hotel FOH Jason. The quality is excellent. Enjoy!  (Please note: at the band's request this is offered for streaming only.)
Stream the complete show:

Faust
2016-03-30
Market Hotel
Brooklyn, NY
Exclusive download hosted at nyctaper.com
Recorded and produced by Eric PH
Soundboard (engineer: Jason) + AT4051 > Roland R-26 > 2xWAV (24/48) > Adobe Audition CC (align, compression, mixdown, normalize, fades) + Izotope Ozone 5 (EQ) > Audacity 2.0.5 (downsample, dither, tracking, tagging) > FLAC (16/44.1, level 8)
Tracks [1:12:57]
01. [Intro]
02. Drone
03. Fresh Air
04. Harlekin
05. Chlorophyll
06. Partitur
07. Tell the Bitch to Go Home
08. Lass Mich
09. Listen to the Fish
10. [encore and band intros]
11. Cendre
Support Faust: Website | Buy Tony Conrad With Faust, Outside the Dream Syndicate via Superior Viaduct