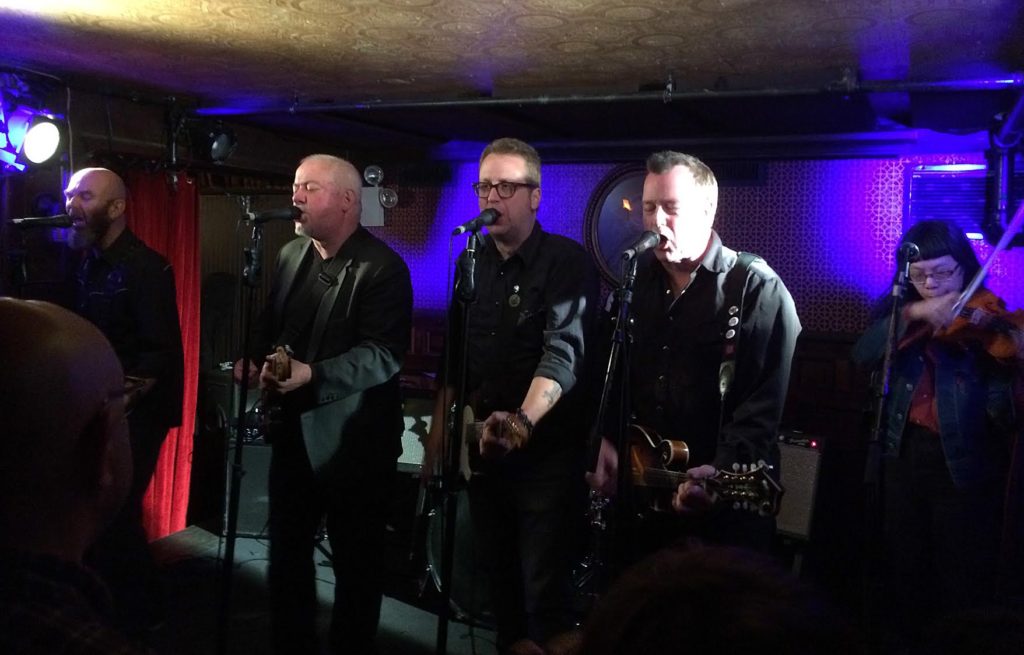 Correspondent NeilD writes:
The Waco Brothers may be credited as the godfathers of "insurgent country" — they were set to release the first single on Chicago's Bloodshot Records back in 1995 until it turned out some members were out of town, leaving Waco co-frontman Jon Langford to go it alone — but their influences have always been far broader than just taking classic country and infusing it with punk energy. A quick perusal of their nine-album oeuvre turns up covers of songs by Johnny Cash and Roy Acuff, sure, but also Neil Young, Gram Parsons, T. Rex, and even Syd Barrett-era Pink Floyd; their latest and first full album in more than ten years, "Going Down in History," matches a strong set of typically astringent originals with covers of both Texas cowpunk pioneer Jon Dee Graham ("Orphan Song") and the Small Faces ("All or Nothing"), with the album dedicated to the latter's keyboard player Ian McLagan, who died a little over a year ago.
The Wacos were born and raised in tiny Chicago bars (the original genesis of the band was as a way for Jon and fellow guitarist/vocalist Dean Schlabowske to earn free drinks), which made the Brooklyn stop on this tour altogether appropriate: With its stated 100-person capacity stretched to the breaking point and the volume cranked up way past 11, Union Hall was sweaty and ear-shattering throughout this hour-and-a-half set. Highlights included an outstanding "Walking on Hell's Roof" from 2000's Electric Waco Chair — with a blistering violin solo courtesy of guest Waco and frequent Langford collaborator Jean Cook — plus a healthy sampling of songs from the new album, including Schlabowske's hauntingly catchy "Receiver," Tracey Dear channeling the Clash's Mick Jones more than ever on "Had Enough," and Langford's "Building Our Own Prison," with its takedowns of big-box-store culture and Malvina Reynolds-inspired "tick-tack, clackity-clack" refrain. For the encore, drummer Joe Camarillo ceded the drum throne to founding Waco (and longtime Mekon) Steve Goulding, as the band kicked into a song that started out as a mashup of "Pinball Wizard" and "Folsom Prison Blues," before veering off into those covers of "Interstellar Overdrive" and "20th Century Boy" that were staples of the Wacos live playbook long before showing up on last year's covers album "Cabaret Showtime."
The set was recorded with AT-853 mics suspended from the Union Hall ceiling, mixed with a board feed. Huge thanks to Union Hall soundman Alex, to venue booker Shannon Manning (not just for bringing the Wacos to Brooklyn and for her support of NYCTaper but for the timely supply of a chair so I could reach the aforementioned ceiling), and to Langford, Schlabowske, Dear, Camarillo, Cook, and Alan Doughty for reinvigorating the band after a long semi-hiatus.
Download the complete show from its page on the Live Music Archive: [MP3] [FLAC]
Stream the complete show:

Waco Brothers
Union Hall
Brooklyn, NY
April 13, 2016
Soundboard > Sony PCM-M10 > WAV (24/48) + AT853 cardioid mics > SP-SPSB-1 battery box > Sony PCM-M10 > WAV (24/48) > Sound Studio (light dynamic compression and mixing) > FLAC (16/44.1) > Tag > FLAC
Recorded and mastered by neil d
01 intro
02 See Willy Fly By
03 Red Brick Wall
04 Had Enough
05 Receiver
06 Going Down in History
07 Harm's Way
08 Pigsville
09 Devil's Day
10 Too Sweet to Die
11 Walking on Hell's Roof
12 All or Nothing
13 Plenty Tough and Union Made
14 Fox River
15 Building Our Own Prison
16 I Fought the Law
17 Revolution Blues
18 Do You Think About Me
19 Orphan Song
20 White Lightning
21 Big River
22 Pinball Wizard/Folsom Prison Blues/Interstellar Overdrive/20th Century Boy
You can learn more about the Wacos and purchase their albums at:
http://wacobrothers.com/wb/
https://www.bloodshotrecords.com/artist/waco-brothers
https://wacobrothers.bandcamp.com/