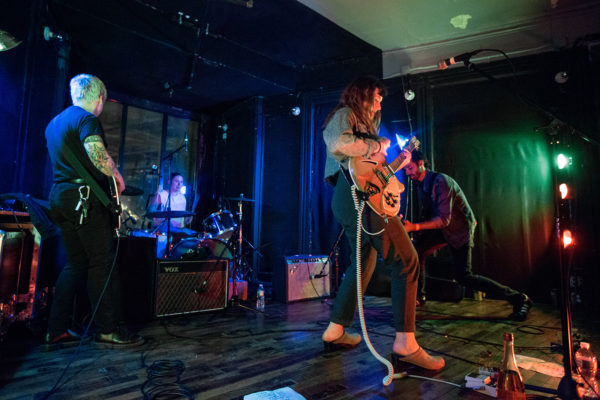 [photo courtesy of Amanda Hatfield – originally posted at brooklynvegan]
On Saturday December 9, 2011, PS Eliot played its "final" show at Death By Audio in Brooklyn in front of less than 100 people. A lot has changed in the subsequent five years not the least of which is the enormous success enjoyed by the two sisters who anchored the original band. Katie Crutchfield's Waxahatchee has released three well-received albums and is currently signed to Merge Records, and Allison Crutchfield's band Swearin' has also released two excellent albums and Allison recently signed as a solo artist also with Merge. Although the band played a brief one-off reunion at Silent Barn in 2013, this year became the right time to look back and do the full-on reunion. Earlier this year Don Giovanni Records released 2007-2011, a thorough compilation of the band's original discography, which also includes bonus home demos and a complete oral history of the band in zine format that was assembled by the writer Liz Pelly.
The release of the complete discography has also fortunately been accompanied by a band reunion and a mini-tour. The Crutchfield sisters joined again with bassist Katherine Simonetti and guitarist Will Granger to play a six-date tour that included stops in San Francisco and Chicago and completed with a headlining spot at Don Giovanni's New Alternative Music Festival this past Friday and two final dates at Philadelphia's MOCA last night and tonight.
The fourth date of the tour was at our own Market Hotel on Thursday when the band played in front of more than 500 people. From the very outset PS Eliot and crowd were fully engaged in the experience. Throughout the night, the Crutchfield sisters were out and about at the Market and there were a lot of excited greetings and hugs for old friends. When the set began it was clear that the quartet were fully in sync and for the hour-long set they passed around a bottle of pink champagne while they worked through a large assortment of classic PS Eliot material. The band was tight, energetic and seemed to be having a great time. If playing PS Eliot material is this much fun for the group, I would venture a prediction that this is not the last we will see of them. And that would be great news.
I recorded this set with the installed AT mics mixed with House FOH Jason Kelly's superb feed. The sound quality is outstanding. Enjoy!
Download the Complete Show [MP3] / [FLAC]
Stream the Complete Show:

PS Eliot
2016-09-15
Market Hotel
Brooklyn NY
Digital Master Recording
Soundboard + Upfront Audience
Soundboard [Engineer: Jason Kelly] + Audio Technica 4051 > Sound Devices 744t > 2 x 24bit 48kHz wav files > Soundforge (level adjustments, mixdown, set fades) > CDWave 1.95 (tracking) > TLH > flac (320 MP3 and tagging via Foobar)
Recorded and Produced
by nyctaper
Setlist:
[Total Time 59:24]
01 Broken Record
02 We'd Never Agree
03 [banter – thanks]
04 Hail Mary
05 Asphalt
06 Pink Sheets
07 [banter – the zine]
08 Cry Uncle
09 Bear Named Otis
10 Shitty and Tragic
11 Crosseyed
12 [banter – NYC]
13 Sadie
14 Like How You Are
15 Tonight [Spica]
16 Sore Subject
17 Watch On Mute
18 Troubled Medium
19 [encore break]
20 Untitled
21 Tennessee
Support PS Eliot: Bandcamp | Purchase 2007-2011 from Don Giovanni Records