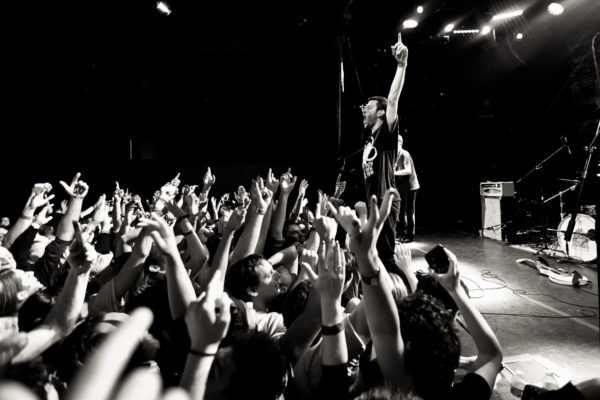 [photos by Amanda Fotes – follow her on Instagram]
PUP's latest album The Dream is Over (SideOneDummy) is on my short list of best albums of the year. The record captures the manic energy of this Toronto quartet with a collection of songs that exhibit the band's ability to craft punk rock anthems of angst with a bit of excess and plenty of humor. Dream also brings out the deeper side of PUP with tracks such as "The Coast" and "Pine Point" that delve into that special brand of Canadian loneliness. The album has earned PUP a nomination for a Polaris prize, and universal praise worldwide.
The concept of the album's production was to bottle up the energy of a live PUP show and put that on a record. This is a band that is in the midst of playing 100 total shows in 2016 where the PUP magic takes place virtually on a nightly basis. But since the last time I saw PUP live was almost three years ago at a modestly attended show at Cameo Gallery before either of their records were released, I wasn't quite keyed into the true contemporary live PUP experience. That is, until this past Saturday night at Bowery Ballroom.
From the very outset of the show's opening number "If This Tour Doesn't Kill You, I Will", this very sold-out crowd at Bowery was one massive syncopated group of heads and arms and legs. From our usual vantage point at the front of the balcony, we get a clear bird's eye view of the floor, and this PUP crowd never stopped dancing, surfing and singing along to every song. We haven't seen a crowd this animated in a long time or a band as motivated to drive that energy. PUP's set drew upon both of their albums pretty equally, with nine of the sixteen songs performed coming from Dream and the other seven songs from their self-titled debut album. The crazy energy culminated in lead singer Stefan Babcock literally crowd-surfing the entire floor to the back bar where, while elevated, he downed a shot of whiskey and returned surfing the entire crowd back onto the stage. It was an accomplishment only made possible by the sheer will of the fans and their utter faith in this band.
PUP's current US and Canadian tour dates continue into mid-December, before the band goes to England in early 2017, all dates [here].
I recorded this set with the Schoeps cards in our usual location and mixed with Kenny's excellent feed. There are some drum level adjustments in the first two tracks, but afterwards the sound is completely dialed-in and is quite an excellent capture of the amazing energy at this show. Enjoy!
Download the Complete Show [MP3] / [FLAC]
Stream the Complete Show:

PUP
2016-10-15
Bowery Ballroom
New York NY
Digital Master Recording
Soundboard + Audience Matrix
Soundboard [Engineer: Kenny] + Schoeps CCM4u Cardioids > Sound Devices 744t > 2 x 24bit 48kHz wav files > Soundforge (post-production) > CDWave 1.95 (tracking) > TLH > flac (320 MP3 and tagging via Foobar)
Recorded and Produced by nyctaper
Setlist:
[Total Time 59:53]
01 If This Tour Doesn't Kill You I Will
02 DVP
03 Dark Days
04 Lionheart
05 My Life Is Over and I Couldn't Be Happier
06 Doubts
07 Back Against the Wall
08 Guilt Trip
09 Can't Win
10 Familiar Patterns
11 [banter – ex-punks]
12 Mabu
13 Sleep in the Heat
14 The Coast
15 [banter – tour]
16 Reservoir
17 [banter – Stefan stage dive]
18 Old Wounds
19 [encore break]
20 Factories
SUPPORT PUP: Website | Bandcamp | Buy The Dream is Over from SideOneDummy Records