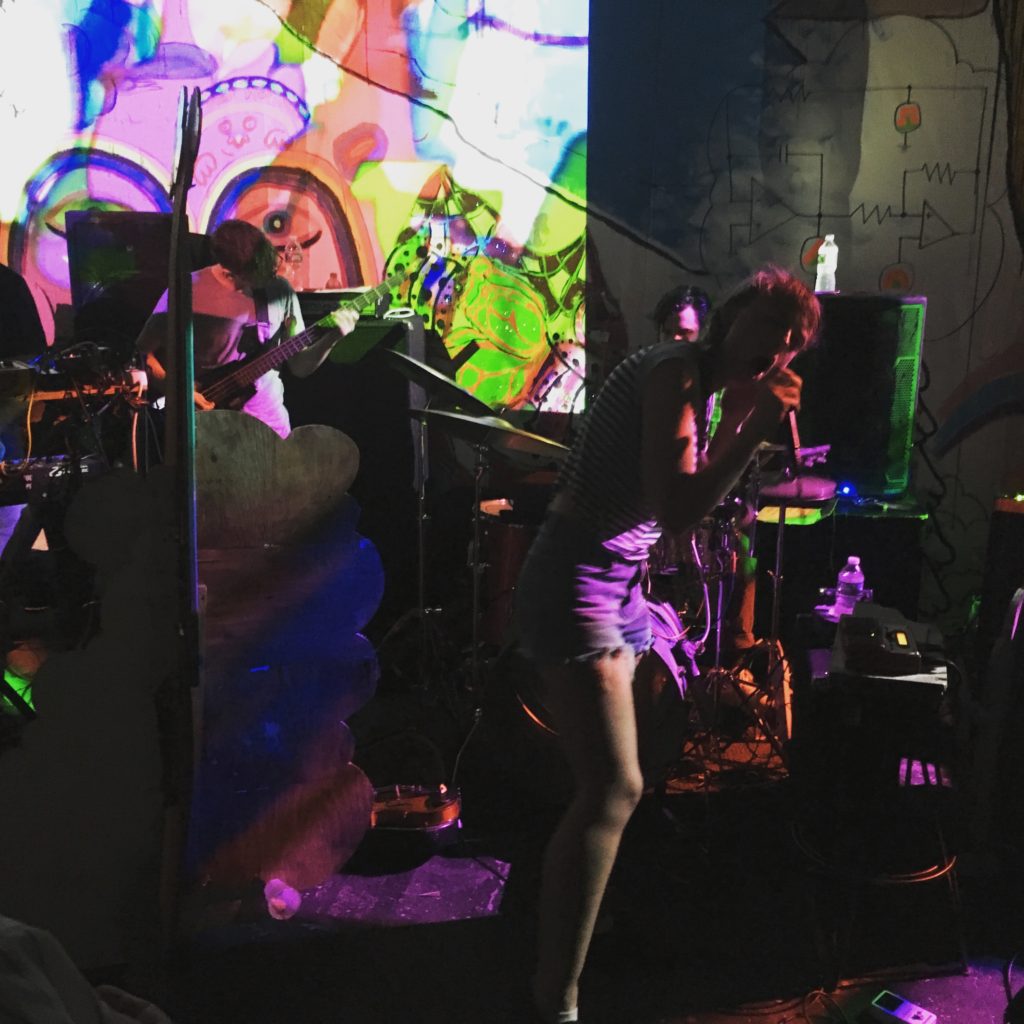 We had seen Guerrilla Toss a few times before this year's Out in the Streets Festival performance that we captured. To us, and to anyone who has watched their ascent, they are one of those rare live bands that you seek out, who combine musical originality and daring with a live performance that's bound to engage even the more pop-leaning subjects whom it reaches. It's not insignificant the this band is signed to DFA, not only because that avatar of the previous decade conjures the best about the north Brooklyn scene, but also because they tend to sign acts that get your body moving, with whatever technology necessary.
This Secret Project Robot show only extends the myth and the mystery of this band, being held in a creative space that, like most things north Brooklyn, was temporal but great. Add to that their specific choice of playing on the floor, rather than on stage, putting frontwoman Kassie Carlson, in particular, right in the audience's face. If it wasn't the technically strong show, in terms of sound system, it was absolutely one that showed what is best about this band's interactive, high-energy live experience. This writhing, sweaty rager, featuring songs from the band's DFA debut, Eraser Stargazer, showed that fun music can be cerebral, too.
I recorded this set with Schoeps MK4V microphones not far from the band. The sound quality is reflective of the setup and the way it was recorded, and fits the moment perfectly. Enjoy!
Download the complete show: [FLAC/MP3]
Stream the complete show:

Guerilla Toss
2016-07-30
Secret Project Robot
Brooklyn, NY USA
Exclusive download hosted at nyctaper.com
Recorded and produced by acidjack
Schoeps MK4V (FOB, DFC, PAS)>KCY>Z-PFA>Aeta PSP3>Roland R-26>24bit/48kHz WAV>Adobe Audition CS 5.5 (channel mixer, compression, fades)>Izotope Ozone 5 (EQ, effects)>Audacity 2.0.3 (track, amplify, downsample, dither)>FLAC ( level 8 )
Tracks
01 Betty Dreams of Green Men>
02 Trash Bed>
03 TV Spell>
04 TV Do Tell>
05 Ritual In Light>
06 Realistic Rabbit
07 Eraser Stargazer Forever>
08 The String Game>
09 Billy Blood Idol
PLEASE SUPPORT Guerilla Toss: Bandcamp | Facebook | DFA Records Page