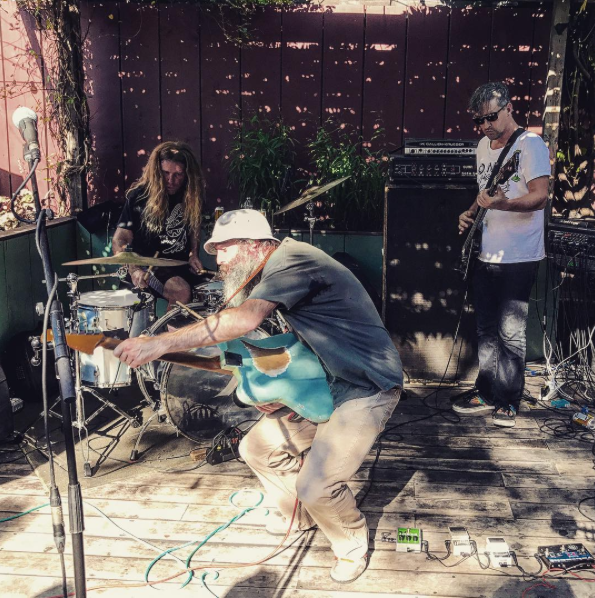 [photos by PSquared Photography]
Though this was their NYC debut, Ethan Miller's latest garage fuzzout band, Feral Ohms, began quietly releasing singles on his Silver Current label way back in 2013. What the hell took them so long? Well, Miller's had some other stuff going on like Howlin' Rain, Heron Oblivion, and the too-damn-short Comets on Fire reunion from that same year. So we'll let Feral Ohms skate on their longtime absence from the East Coast. Besides, the band—that's Miller on guitar and vocals, Josh Haynes on bass, and Chris Johnson on drums—made up for it and then some with this literally scorching Saturday afternoon outdoor set as part of Union Pool's Summer Thunder series. They played the entire self-titled record to huge smiles all around as the packed crowd took in the sun and the tunes. Let's hope we don't have to wait too long before the 'Ohms come back this way again.
I recorded this with the mics set up on stage, combined with a board feed courtesy of Union Pool engineer Doug. It sounds excellent. Enjoy!
Download MP3 and FLAC via the Live Music Archive.

Feral Ohms
2017-06-24
Union Pool (Summer Thunder)
Brooklyn, NY
Recorded and produced by Eric PH for nyctaper.com
Soundboard (engineer: Doug) + AKG C480B/CK61 (OS) > Zoom F8 > 2 x WAV (24/48) > Adobe Audition CC (align, mixdown, compression, normalize, fades) + Izotope Ozone 5 (EQ) > Audacity 2.0.5 (tracking, tagging) > FLAC (24/48, level 8)
Tracks [36:06]
01. Love Damage
02. Living Junkyard
03. Early Man
04. God of Nicaragua
05. Teenage God Born to Die
06. Sweetbreads (false start)
07. Sweetbreads
08. Value on the Street
09. The Glow
10. Super Ape
• Buy Feral Ohms music via Bandcamp
• • Instagram
• • • Facebook