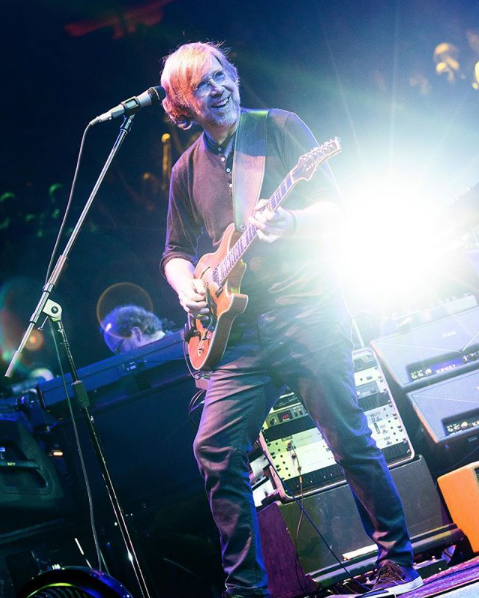 [This image from the Phish From the Road Instagram page. Photo by Rene Huemer]
Boston cream was the theme of this twelfth and penultimate night of the Phish "Baker's Dozen" series at Madison Square Garden. And if that offered two all-too-obvious musical groups in one donut flavor, Phish couldn't avoid taking that bait, making a mashup of Cream's "Sunshine of Your Love" and Boston's "More Than A Feeling" an early highlight of a show whose uneven moments were bested, in my view, by that ever-available fount of inspiration, the jams. If the first "Sloth" of 2017 excited more than a few heads, there was a killer "Gotta Jiboo" up next for the Saturday night crowd. That said, this was no Saturday night version–a sprawling jam that veered the song away from its upbeat, party vibe. If 2014's "Plasma" isn't the best-known song in the catalog, it certainly was one of the standouts of the first set, closing it out.
As has been the norm, the second set was where the fireworks were, virtuosity-wise. Kicking things off with a particularly languid version of "Ghost," the band let that song take center stage as the night's first huge jam song, followed by relative newcomer "Petrichor" and "Light." After a "Lizards">"The Horse">"Silent In the Morning">"Quinn the Eskimo" jam, there wasn't much to be said. Nearing the end of curfew, the band wrapped with one of their more maudlin numbers "Joy." If that song felt like a strange note to end on, with just one night of this epic MSG run left, it drove home the idea that with Phish, it's best not to ask why.
I recorded this set with Schoeps MK4V microphones in the center of the tapers' section. The sound quality is excellent. Enjoy!
Download the complete set: [MP3] [FLAC] [ALAC]
Stream the complete set: 

Phish
2017-08-05
Madison Square Garden
New York, NY
The Baker's Dozen, Night 12
Recorded and produced by acidjack for nyctaper.com
Schoeps MK4V (PAS, OTS, DFC) > KC5>CMC6>Sound Devices MixPre6 > WAV (24/48) > Adobe Audition CC (compression, normalize, fades) + Izotope Ozone 5 (EQ, exciter) > Audacity 2.0.5 (tracking, tagging) > FLAC (24/48 or 16/44.1, level 8 )
SET ONE
01 Soul Shakedown Party
02 Uncle Pen>
03 The Sloth
04 Gotta Jibboo
05 Fuck Your Face
06 "Sunshine Of Your Feeling" [Sunshine of Your Love -> More Than a Feeling > Sunshine of Your Love > Foreplay/Long Time]
07 Frost
08 Scent of a Mule
09 Fire
10 Alaska
11 Plasma
SET TWO
12 Ghost
13 Petrichor
14 Light>
15 The Lizards
16 The Horse>
17 Silent in the Morning>
18 Quinn the Eskimo>
19 Rocky Top
[encore break removed]
20 Joy