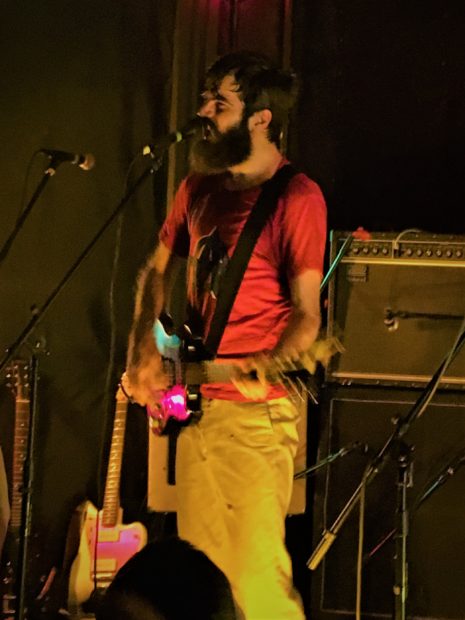 Thursday night at Market Hotel was a night for survivors. Both the artist and the venue are inextricably intertwined as crucial parts of last decade's Brooklyn DIY scene, but both have reshaped and reformatted themselves for the future. Titus Andronicus survived the meat grinder of the music industry and a myriad of personnel changes, and now find themselves having landed peacefully into the arms of the excellent Merge Records. The most recent Titus record, 2015's The Most Lamentable Tragedy was perhaps the band's most ambitious and fully realized record. The Market Hotel meanwhile has itself survived a laundry list of issues but Market v3.0 began again in November and the limited calendar will soon give way to a full-on slate of shows in the New Year.
This year saw Titus Andronicus in retooling mode, and this Market Hotel show was the only headlining Titus gig of the entire 2017 calendar year. But Patrick Stickles seems to be in a very good place personally, as his positivity on this night was palpable. When the doors opened, the band members were seated at the merch table to greet the fans, and Patrick spend the better part of the first hour of the night meeting and greeting and catching up with old friends. The fan friendly theme bled directly into the performance itself, as Titus delivered a nearly two-hour set — representing the longest set ever played at this venue. The setlist contained a panoply of Titus material, from their very first single all the way through a good chunk of the recent albums. Throughout the show, Patrick noted members of the audience, thanked the people who have helped the band throughout the years, and played his heart out. The crowd for their part were fully engaged — there were no chatterers, just people singing along with the anthemic lyrics from the front to the back of the venue. By the time the set ended with a fantastic punk-tinged cover of Springsteen's "Glory Days", the crowd, the band, and the venue had proved that its all about survival and fighting through life's conflicts to emerge on the other side stronger than ever. We expect that 2018 will be a very good year for both Titus Andronicus and The Market Hotel, and this show gave us great hope for the future of both.
I recorded this set with the installed microphones along with an excellent feed from house FOH Eric. Other than one point near the end of "Perfect Union" when a drum mic shorted out, this recording is quite excellent. Enjoy!
Download the Complete Show [MP3] / [FLAC]
Stream the Complete Show:

Titus Andronicus
2017-12-14
Market Hotel
Brooklyn NY
Digital Master Recording
Soundboard + Upfront Audience
Soundboard [Engineer: Eric Lemke] + Audio Technica 4051 > Sound Devices 744t > 2 x 24bit 48kHz wav files > Soundforge (level adjustments, mixdown, set fades) > CDWave 1.95 (tracking) > TLH > flac (320 MP3 and tagging via Foobar)
Recorded and Produced
by nyctaper
Setlist:
[Total Time 1:45:17]
01 [intro remarks]
02 Upon Viewing Oregon's Landscape With The Flood Of Detritus
03 Fatal Flaw
04 Upon Viewing Brueghel's Landscape With the Fall of Icarus
05 In a Small Body
06 I Am The Electric Man
07 Lonely Boy
08 [banter – Market Hotel]
09 Titus Andronicus
10 My Time Outside the Womb
11 Mr E Mann
12 Fired Up
13 Dimed Out
14 [banter – sensitive subtext]
15 No Future
16 No Future Part Three Escape From No Future
17 No Future Part V In Endless Dreaming
18 Stable Boy
19 Four Score and Seven
20 A More Perfect Union
21 [banter – thanks]
22 Glory Days [Springsteen]
SUPPORT Titus Andronicus: Website | Merge Records Page | Bandcamp