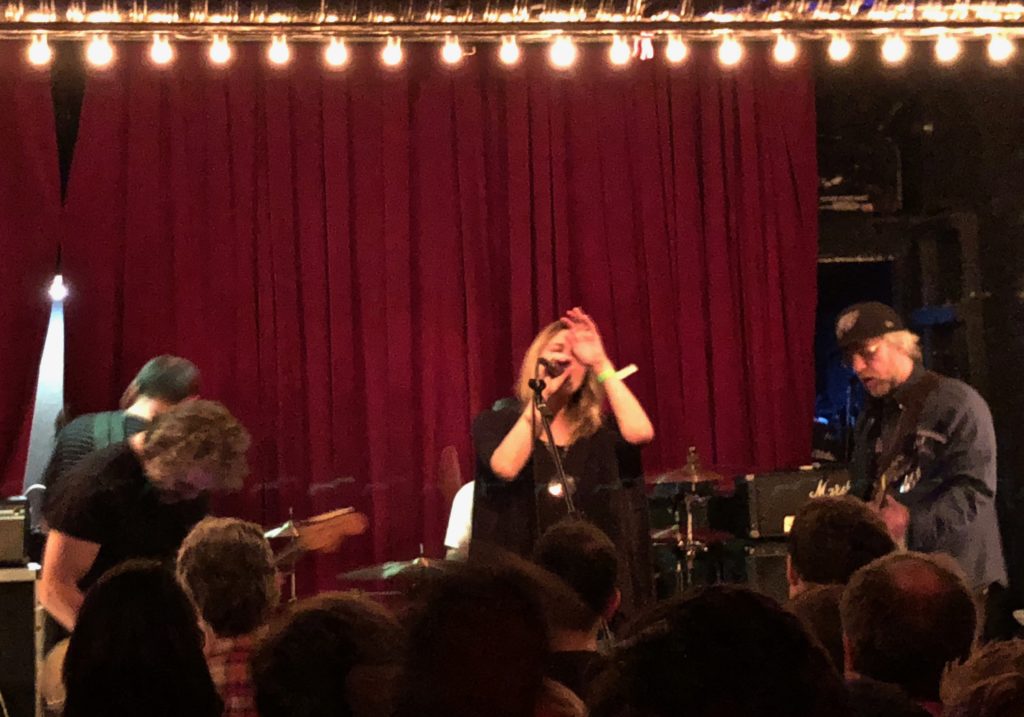 If Williamsburg venue Union Pool is better-known among the GenZ semi-grownups that populate the nabe's bars these days, don't tell the people who crowded the room for the Bardo Pond show on this snowy Saturday night — many of us grinning as the hookup-seeking set turned away from door not only by the "SOLD OUT" sign but also the deep noise emanating from behind it.
Bardo Pond is one of those bands that will always cast a deep but not wide net, nestling in the psyche of those able and open to embracing them. Their massive oeuvre — their latest and misleadingly titled Volume 8 is far from only their 8th record — attests to fans' insatiable desire for what they're into. Tonight's set, short on number of songs but long on jams, was anchored by a sprawler from the new album, "And I Will" along with some recent tour favorites. The night capped with a longtime band classic, "Tommy Gun Angel," putting an exclamation point on the idea that whatever other fleeting things might pass on that Saturday night in that room, this band always leaves echoes long after they've left the building.
I recorded this set with Lesley's house PA feed together with Schoeps MK5 cardiod microphones. The sound is excellent. Enjoy!
Stream and download the complete show (and donate to the band) from our bandcamp page:
Bardo Pond
2018-02-17
Union Pool
Brooklyn, NY
Hosted at nyctaper.com
Recorded and produced by acidjack
Schoeps MK5c (at SBD, PAS)>KC5>CMC6 + Soundboard (engineer: Lesley)>>Sound Devices MixPre6>2×24/48 WAV>Adobe Audition CC (align, mix down, compression, limiter)>Izotope Ozone 5 (EQ, effects)>Audacity 2.0.5 (track, amplify)>FLAC ( level 8 )
Tracks
01 Kali Yuga Blues
02 Out of Reach
03 My Eyes Out
04 Under the Pines
05 And I Will
06 Tommy Gun Angel
SUPPORT BARDO POND: Website | Buy Volume 8