Howdy guitar-heads, and just-plain-old-heads! One of our favorite travelers, William Tyler, Goes West on his new LP, out now on Merge. He's currently touring the U.S. into March and Europe in April, so do check out his full tour dates for your local gig. Here in NYC, Tyler appears at (Le) Poisson Rouge on February 26. It's a sure bet he'll be slinging some tunes old and new, so grab your tickets.
We got a lucky chance to hear Tyler preview the new album at Rough Trade NYC last month, as well as play some songs from Modern Country. In typical fashion he was nice and chatty, sharing some anecdotes between songs and being an all around positive guy. Meanwhile, Tyler also penned an essay about Cosmic Pastoral music for Aquarium Drunkard—more evidence that he's one of the most interesting and thoughtful voices on instrumental guitar.
I recorded this set with the MBHO cardioids set up in stereo DIN configuration, combined with a board feed courtesy of Rough Trade FOH Jeremy Rychard Snyder. The sound is outstanding thanks to Jeremy and a quiet crowd. Enjoy!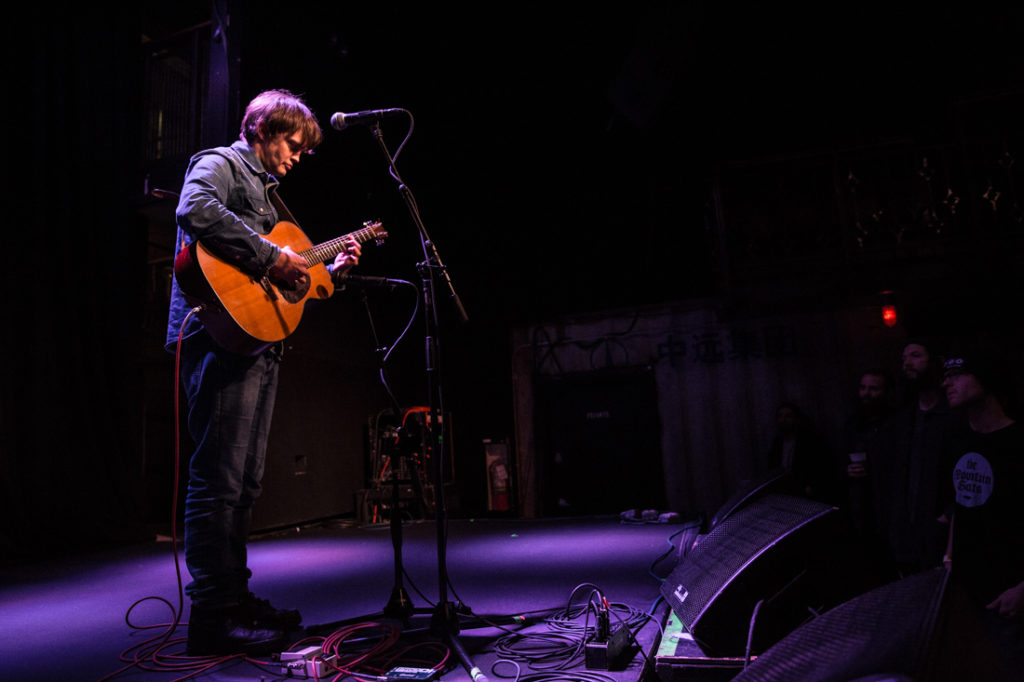 William Tyler
2019-01-23
Rough Trade NYC
Brooklyn, NY
Recorded and produced by Eric PH for nyctaper.com
Soundboard (engineer: Jeremy Rychard Snyder) + MBHO KA200N/603A (DIN, at SBD) > Sound Devices MixPre-6 > WAV (24/48) > Adobe Audition CC (compression, normalize, fades) + Izotope Ozone 5 (EQ) > Audacity 2.0.5 (tracking, tagging) > FLAC (24/48, level 8)
Tracks [34:26]
01. Man in a Hurry
02. Call Me When I'm Breathing Again
03. Eventual Surrender
04. Virginia is For Loners Intro
05. Virginia is For Loners
06. Gone Clear Intro
07. Gone Clear
08. Not in Our Stars
09. Rebecca
10. Sunken Garden
• Buy William Tyler's records, including Goes West and Modern Country at Merge